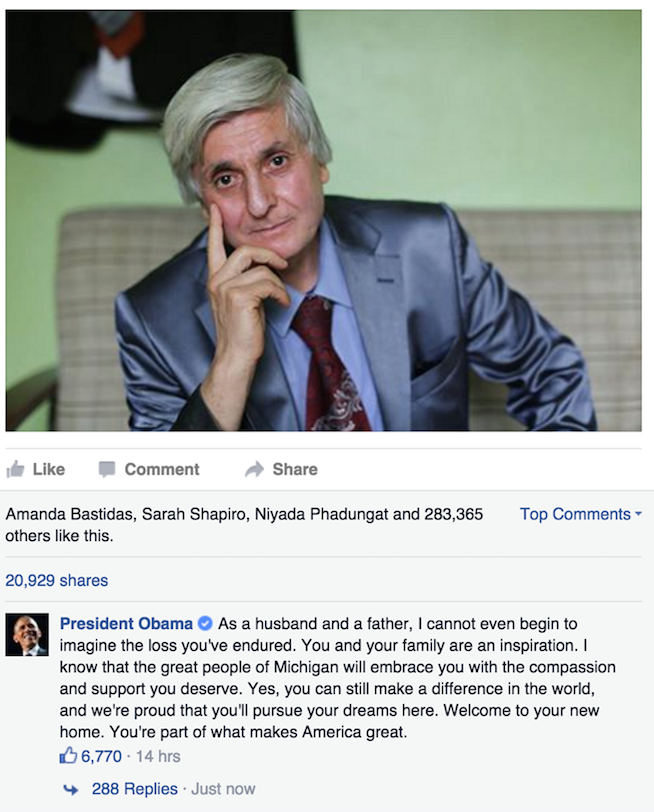 Image credit: HONY
If you follow Humans of New York on Facebook like I do, you probably ugly cry at least once a day. Right now, they are interviewing Syrian refugees who have successfully completed the multi-year process to become approved to enter the United States, and their stories are particularly heart-breaking.
While all of them are gut-wrenching in their own way, one older man's series of stories stood out. I shared his story on my own timeline, and I said that it was the saddest one I've ever read on HONY –– and that's saying a lot. I must not have been the only one his story resonated with because President Obama commented on it to welcome the man to the United States today! 
In seven posts on HONY, the man described how he worked his way to a PhD and built a compound for his family, only to have them destroyed by bombs. He wasn't home when it happened, so his son carried the pieces of his mother and sister out of the building. Yes, pieces. He now has cancer and described himself and his family as psychologically dead. Yet he still has hope that he can do something that matters, and his family will soon be entering the United States to relocate to Michigan. 
In a news cycle full of bigotry –– and even fascism –– it's good to see our president treating refugees with kindness and grace. Thanks, Obama.