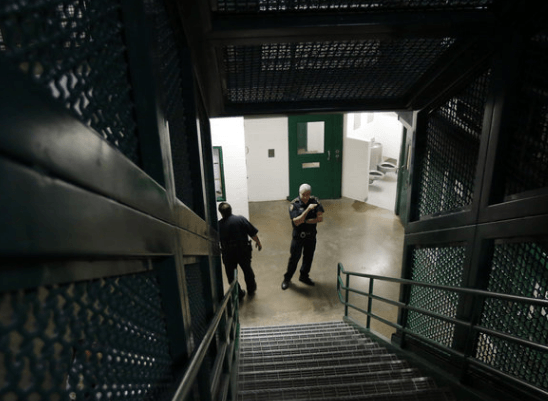 (This is the "mental health facility," by the way. Even if the sheriff's office hadn't fucked up the paperwork, the attorney's office failed this woman.) Image: npr.org
In what might be the WTF-iest story in the history of WTF, a woman in Texas is suing the state for wrongly imprisoning her for a month, during which time she was subjected to physical and mental abuse at the hands of guards and other prisoners.
What was her crime? Being a rape victim who suffered a mental collapse while testifying.
The woman, who is diagnosed with bipolar disorder, was testifying against her rapist when she experienced a breakdown in the courtroom. According to the lawsuit filing, authorities in the case were scheduled to go on vacation (!!!) but feared the woman would flee rather than return to testify again when the case resumed. The judge ordered her remanded to a mental health facility for the duration.
This is awful enough already. But then there was a fuck-up to end all fuck-ups and this poor woman was sent into the general population of the Harris County Jail, where she was misidentified as the DEFENDANT in a rape case, not the victim.
This is where we all start screaming in primal, guttural rage. WHO THE HELL IS RUNNING THINGS DOWN IN HARRIS COUNTY, TEXAS AND HOW CAN WE GET THEM SO FIRED THAT THEY FEEL SCORCH MARKS??????
The woman remained in jail for a month, during which time she was allegedly humiliated by psychiatric staff who refused to believe that she was a victim, not a perpetrator. Guards physically abused her, she was mistreated by other inmates, and her medications were withheld.
Oh, and meanwhile, her rapist was in the same facility but was NOT abused nor denied medical care and OMFG I AM SO ANGRY I WANT TO SHOOT FIRE OUT OF MY EYES.
The Harris County Sheriff's office defended its actions by saying, "The request for detainment was made by prosecutors at the Harris County District Attorney's Office. When so ordered by the court, the Sheriff's Office had no authority but to follow the court's order to detain Jane Doe."
Ok, yeah, but putting her in JAIL and screwing up her paperwork so everyone thinks she's the rapist is A GIANT FUCKING PROBLEM.
I can't imagine what will ever make things right for this woman, but I fervently hope she gets what she needs going forward.
And I hope, with equal fervor, that heads roll in the Sheriff's Office.