This chocolate cake is pretty darn tasty, and a great treat for your summer gatherings.
A very long time ago, I lived in Texas. There are some good things that came out of it, like my love for all things Tex-Mex and swimming. There are some not so amazing things that came out of it, too, but that's another article for another day.
One of my favorite foods that came out of that time was a cake from a place called Rosa's. I don't know who Rosa is, but I love her. She honed the perfect tortilla, the best chili con queso, and the best fajitas in Texas. She also made a chocolate cake with cinnamon and pecans that still haunts my dreams and my tastebuds, 20 years later.
I've tried to recreate it. I will admit, this is a shameless attempt at recreation, although I'm sure it falls severely short. You can't teach magic. You can try to cast a similar spell, but it will never work like it does for those who have created it.
However, this is pretty darn tasty, and a great treat for your summer gatherings.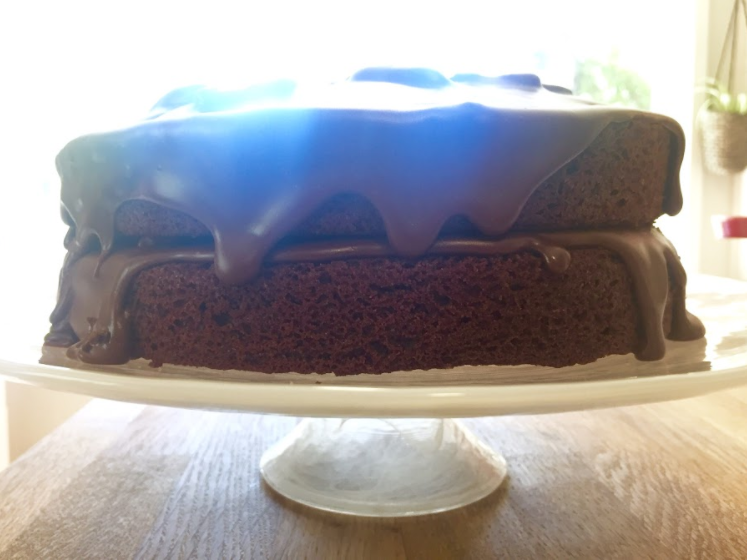 Ingredients:
1 chocolate cake mix, prepared, plus 1 Tbsp cinnamon
1 can sweetened condensed milk
1 cup cinnamon chips
1 cup chocolate chips
1/2 - 1 cup chopped pecans, divided
Directions:
Evenly divide cake batter in two round cake pans. (I love Immaculate Baking Company's mixes. They're so tasty!) Bake according to directions. Remove from oven and allow to cool completely.
In a small sauce pan, add your cinnamon and chocolate chips to your can of sweetened condensed milk and stir continuously on low heat. THIS IS IMPORTANT: Do not stop stirring until everything is melted and shiny-smooth. Be sure that your spatula or flat-edged, non-stick stirring utensil maintains contact with the bottom of the pan continuously. You will scald the mixture if it doesn't stay in constant motion. This step takes about 10 minutes, so plan accordingly.
Place your first cake on a cake plate. Sprinkle half of the pecans over the cake. Take warm chocolate fudge and drizzle it over the pecans in a thick layer. Repeat this with the second layer, making sure to do it quickly before the mixture solidifies or loses its elasticity. You want it to luxuriously drip over the edges of the cake, but not become a huge gloppy mess.
Allow to cool slightly before serving (10 minutes), and then eat immediately. Or, you can wait. Your choice. I don't know why you would ever want to make that choice, but cake is a personal thing and I support your baking autonomy.