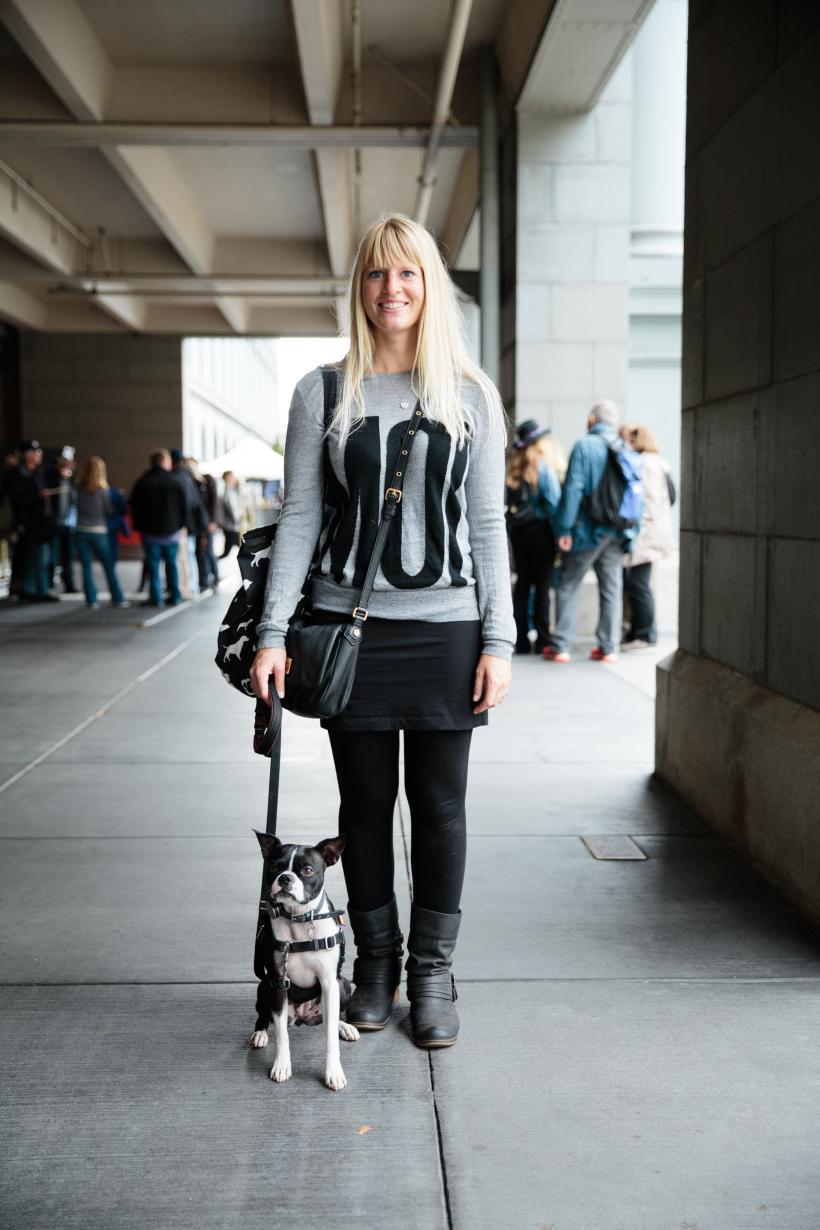 Spotted at: Ferry Building, SF
Occupation: Wanderer, Crafter
What is your occupation?
[Shrugs]
What do you do – do you just hang out?
Yeah. [laughs]
What do you like to do in your spare time?
I like to walk around the city and go to new places.
Are you visiting from somewhere else?
I'm from Germany, but I've been living in San Francisco for two years.
What brought you to San Francisco?
My husband—my husband's work.
How do you both like it here so far?
Oh we love it! It's a great city, and the weather is nice!
Where is your family from? Are you both from Germany?
Bavaria, close to Munich.
What are you up to today?
We're planning on going to the Etsy Holiday Market at Pier 35.
Like from Etsy.com? Oh, I didn't know that was going on!
Yeah, they're going to have around 100 vendors from Etsy and all over.
Do you do any crafting yourself?
Yeah, sometimes!
What kinds of things do you do?
I like knitting and sewing. I started . . . I think back when I was in preschool.
Where are your favorite places to visit in San Francisco?
We love Fort Funston—especially for the dog! And the Ferry Building on Saturday with the Farmers' Market.
So tell me about what you're wearing today!
The shoes are from Aldo, the skirt is from H & M, and the sweater is from Madewell.
I also noticed your cute bags.
This one is Marc Jacobs, and the tote with the dog pattern I made.
Oh that's really cute! Do you sell those?
I don't sell them, I just make them for myself and for friends.
How's your dog doing today?
She's good! She's still a little tired from the turkey dinner.
Oh she's been getting lots of leftovers?
Yeah!
How long have you had her?
We've had her for 1 1/2 years. Her name is Emma.
[Andrea's husband]: We're going to be staying in Lake Tahoe soon, so she made some new coats for the dog.
Really? I want to see!
[Takes out her phone and shows me some photos of Emma in her new coat.]
Oh my god. That is so cute. You could totally make a side business out of that!
Yeah, everyone keeps telling me that [laughs].