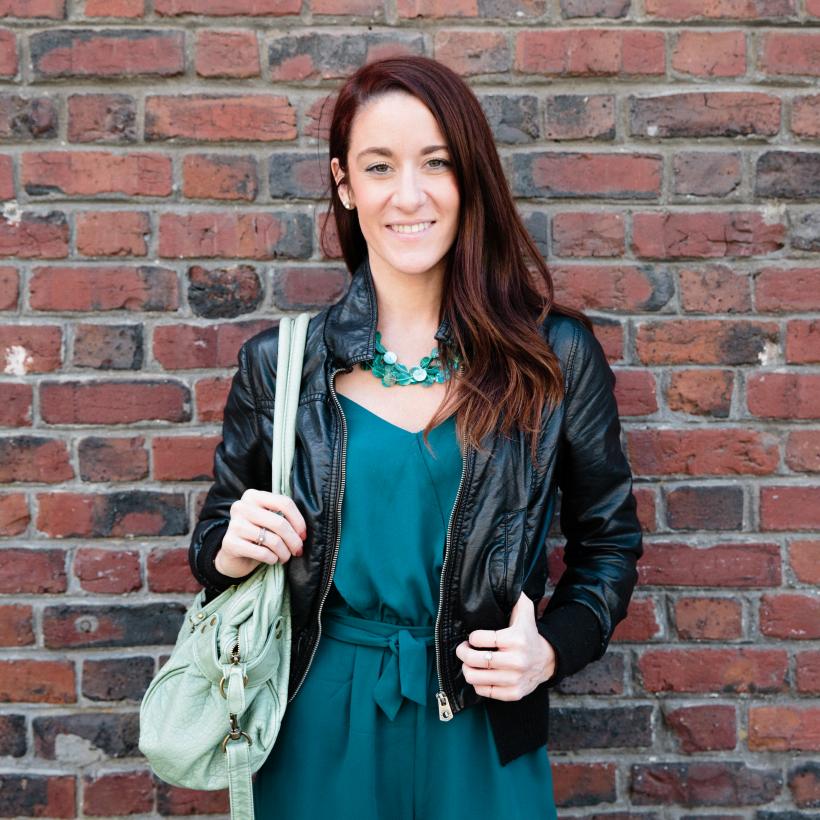 Spotted in: Financial District, SF
Occupation:  Office Manager
What are you up to today?
I'm just on break from work, heading to the grocery store.
What is your occupation?
I'm an office manager.
How did you get started doing what you do?
I got an amazing opportunity from a friend. It's truly a networking world—I credit that completely to getting where I am.
What you you like most about it?
Interacting with so many people. My purpose is to increase culture in the office and it's so rewarding when I feel like I'm doing exactly that. When I get a smile or thank you as a result of something I did for someone it makes me so ecstatic and gives so much purpose to my day!
Are you from the Bay Area or have you moved here from somewhere?
I moved here from Chicago, actually.
Was that a recent move?
Yeah!
How are you liking things so far?
I love it! The weather's great—it's freezing right now in Chicago.
What drew you to the Bay Area?
The job actually! I was looking to move out here, out of the cold because we had Chiberia last year and it was freezing. Also, I grew up in the Midwest, so it was just time to move. An opportunity presented itself out here so I was like, I have to do it!
What have been your favorite places to explore in the area?
That's a good question! I live in North Beach, so I'm finding areas around there that I like. Just walking around, going to the gym, being active, hiking. I enjoy hiking, which you don't do in the Midwest because there's nowhere to hike! [laughs]
Have you had any fun discoveries hiking-wise?
Yeah, I'm actually in this hiking group, that's a bunch of people from Chicago, and once a month we do a different hike. So last month we did Mission Peak, I think next month is Mt Tam.
How did you find out about the hiking group?
It was actually another friend who had moved here from Chicago who put it together. He's a friend of a friend, and our mutual friend introduced us. He just kind of started it with a bunch of people from Chicago.
Any favorite city haunts?
Yeah actually—have you ever been to La Rocca's? It's this hole-in the-wall bar that we always go to to watch Packer games and different sporting events. The bartenders are all older, and kind of ornery, but really funny, so it's almost like a show. And nobody's ever there! It's only us. So that's kind of like our go-to during the day—we'll just kind of hang out there.
Does it feel a bit like home there?
Yeah, that's exactly right! I kinda like the alcoholics in the corner, it's more like the Midwest feel. People not doing a whole lot with their day! [laughs]
Any recent obsessions, fun things that have caught your attention?
TV-wise, we've been re-watching episodes of Girls. Have you ever watched it? It's just so ridiculous. I've already seen it all, but one of my friends hasn't and I'm so willing to re-watch it again! [laughs] As far as music goes, I've really started liking MisterWives. They're kind of an up-and-coming indie rock band. They're upbeat and pop-y, but definitely indie—they sort of remind me of Chvrches. They're coming here in a couple weeks and I think they'll be playing at the Independent. What else . . . this is kind of the Midwest in me, but I've been really digging Irish Coffees!
How would your describe your personal style?
Kind of all over the place! It depends on my mood. I'm sometimes preppy, sometimes eclectic. It's just how I wake up that day—how do I feel? I kind of have these different faces, of what I wear sometimes. People have told me I don't really have a particular style ever, but it's always interesting.
Any challenges you've overcome recently?
Probably moving out here and not really knowing anyone. I knew one person—I've just kind of been making a life here in the city. I moved away from family, and all my good friends. I haven't regretted it yet though! It's been a really cool experience.
Have you gotten any good advice?
Before I got out here, people were saying, you gotta do it! You can always move back, and you'd always wonder if you didn't.
I also wanted to ask you about what you're wearing today!
I'm actually really all over the board right now! The jumpsuit I actually wore for New Year's Eve. I wore it with heels and a gold belt and then I thought, well I guess I can just wear this to work too! It's from Forever 21. Nothing I buy is ever over like $20. This jacket is from H&M, the shoes I got at a store in Chicago, they're just some Asics Tigers.