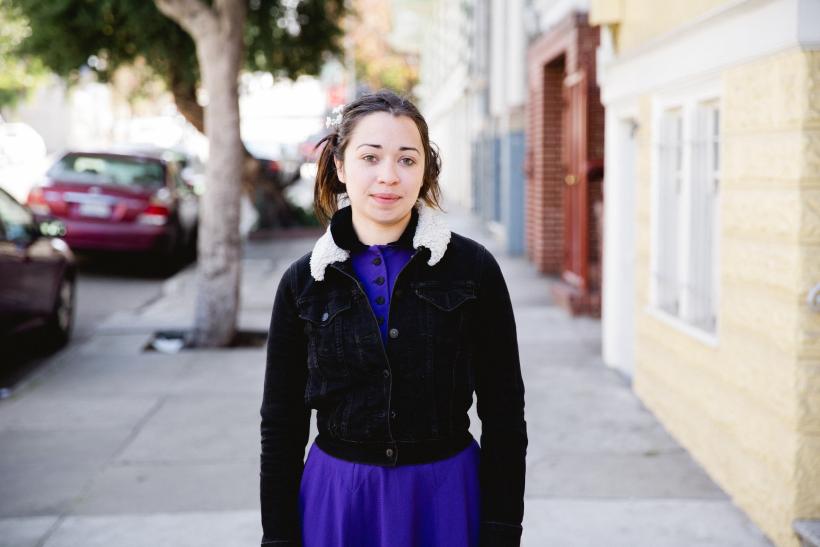 Spotted in: The Haight, SF
Occupation: Seamstress, headpiece maker
What are you up to today?
I'm on a break from work.
Where do you work?
I work at the vintage store right here—Decades of Fashion.
How did you start doing that?
I've been collecting vintage since I was thirteen, so I applied here in May. I do a lot of seamstress work for them, repairs and stuff like that.
Do you have your own shop as well?
Yeah, I make jewelry. Piper's Shoe Parlor right across the street sells some headpieces that I make, so totally in the neighborhood!
How long have you been in SF?
I've been here since 2007. I went here to go to FIDM for fashion design, and just kind of fell in love with the city and have been here ever since.
What do you like most about doing what you do?
I like the uniqueness of the clothing. I'm not really a big fan of disposable fashion, so the nice thing about vintage is that it's made well, most of it is natural fibers, hand-sewn hems, and just really quality stuff. If I could wear designer, I'd wear nothing but designer, but vintage is definitely more affordable.
What have been some fun projects that you've worked on lately?
I've made costumes for clowns who have toured at the Ringling Bros. They did a different circus, and I made costumes for them.
How did that come about?
They're my roommates. I live in a warehouse with ballerinas and clowns and stuff. I've also done some photography projects with some friends. I have an interesting group of friends who like to get weird. [laughs]
How did you get into the jewelry-making part of things?
I worked for a jewelry designer for a little bit and learned how to do wire wrapping, and then for some reason I've just been obsessed with headpieces recently. I started doing chain mail—I just taught myself how to do it and totally fell in love with it, so I'm going for that.
What are your favorite places in the area to hang out in the area?
I like going to Golden Gate Park, that's pretty amazing. I used to work at Club DeLuxe, and I still go there all the time. It's right on the corner of Haight & Ashbury—a jazz club. It's pretty rad. It used to be the Gold Cane, and then I think it was something else and then it was Club DeLuxe. I think the owners have had that space since the early 90s. It was where the whole swing revival happened in the 90s—that was the epicenter of it.
What are some recent challenges you've overcome?
Well I'm moving again in four months for the tenth time in seven years.
Wow! Did you just need a change of pace? Has it been by choice?
It's never been by choice. It's always been because of interesting circumstances. This time the owners are deciding to move into our building. So, gotta move again. I'm thinking about moving to the East Bay—Oakland.
What's been inspiring you lately?
My friends are a big inspiration to me. I'm friends with musicians, artists, all kinds of people and they've just been a huge inspiration.
Anything that you've been obsessed with lately or has sparked your interest?
I've been getting into hula hooping. My friend—she's an amazing hooper. I think that's the term. She's been teaching me a little bit.
Tell me about what you're wearing today! How did it all come about?
So I pretty much bought this entire outfit at Goodwill over the span of a couple of years. The dress is 1950s, and then Doc Martens which are super comfortable for work. The corduroy jacket is Levis.