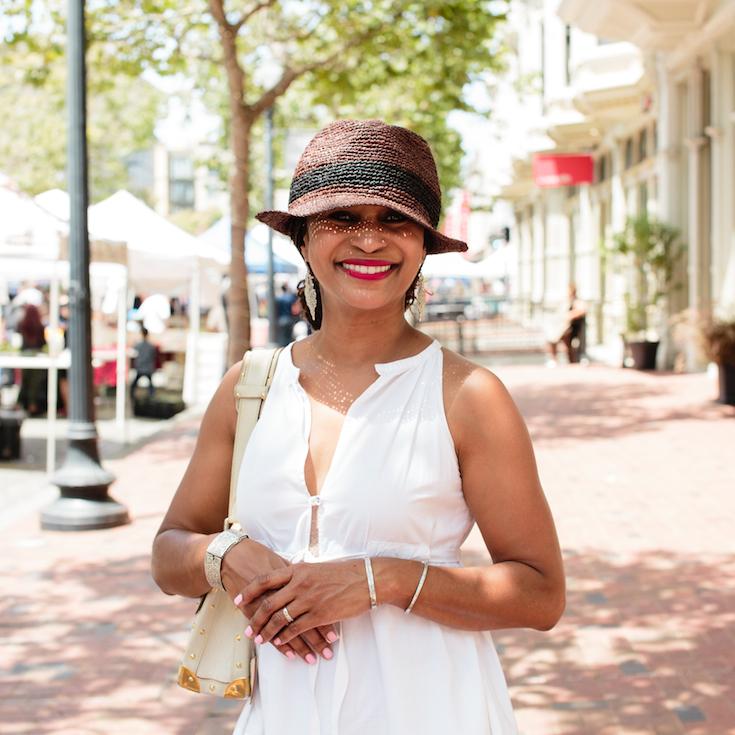 Spotted: Old Oakland Farmer's Market
What are you up to today?
I'm having lunch with my co-worker.

What is your occupation?
I work for the Oakland Unified School District.

What do you like about what you do?
I like supporting students and families, being able see our district improve, our students come to school on time daily so they can get their education, and increasing our students going on to college.

What is something that has caught your interest lately?
My husband and I love Yoshi's — we visit the venue probably 2-3 times a month. In fact, we're going tomorrow to see Mint Condition.

What kinds of music do you typically like to see?
We love seeing jazz and R&B. Monday night we heard a band called the Clues Band at Yoshi's. Just all types of music. I love classical, too!

What are some of your favorite places to go in the neighborhood?
Coming to the farmer's market, looking for beautiful flowers, hearing and enjoying great music. They have some great tacos that I tried for the first time today — the line is out the door!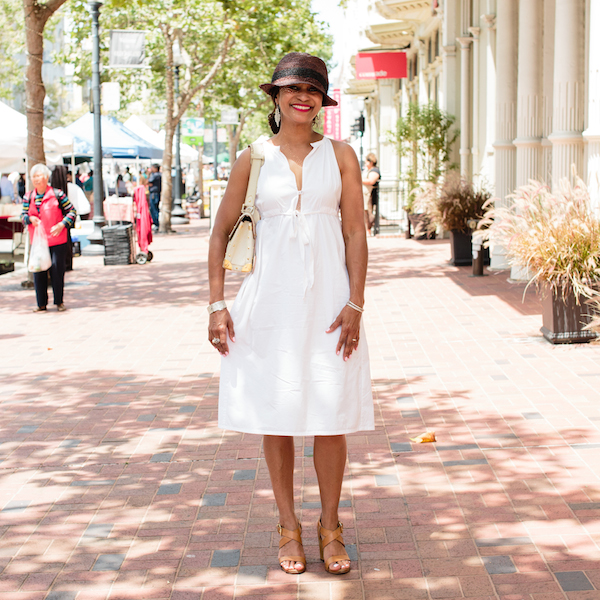 I love all the orchids you're collecting here! (Is holding a couple of orchid plants, not pictured) Do you have a bit of a green thumb?
Yeah, I have a bit of a green thumb. I handle all of the indoor plants, and my husband handles all the outdoor ones.

What inspired your personal style today?
I just wear what feels good. Sometimes I just dress to my mood. It was a whimsical, happy Friday, so I just decided to put on the hat and pull out the white dress. My last name is White, I'm a newlywed, and I rock white whenever I can.