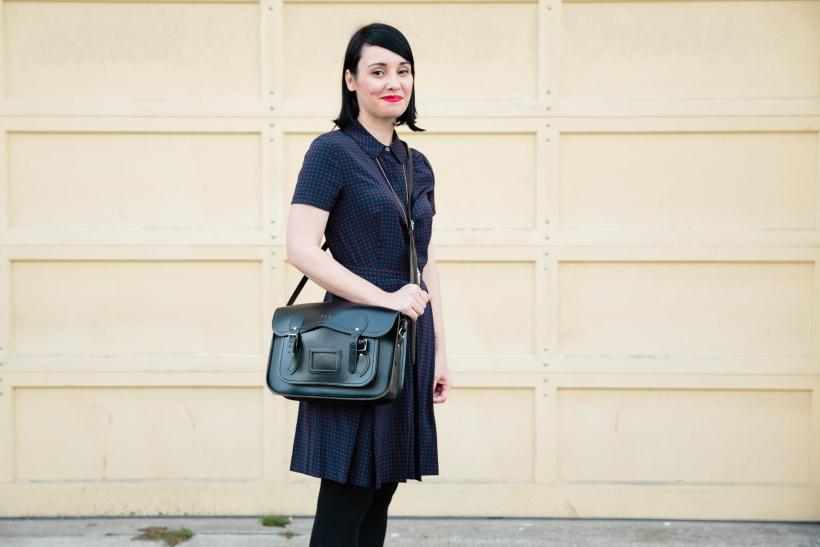 Spotted in: Sunset, SF
Occupation: Human Resources Specialist at Zoosk
What are you up to today?
I was stopping to have some lunch by myself. Just kind of a lazy Sunday.
What is your occupation?
I work for Zoosk, it's an online dating company and I'm an HR specialist.
How long have they been around?
They've been around for about seven years.
How do you like working there?
I like it, I like it a lot! It's definitely an interesting place to work.
Any eye-opening moments?
It all just boils down to love, you know? And when you work in a place that brings people together—filled with fascinating stories about people going online, meeting each other, getting married, and having kids—that's kind of the best part of it. That and the dogs—we get to have dogs in the office.
Do you have a dog that you bring to work?
I don't but I adopt all of the ones that are in the immediate area.
What do you like to do in your spare time?
Around town I like to go to as many shows as possible. I'm a huge Smiths and Morrissey fan, so any show that I can go to. Travel and shopping.
What are your favorite music venues?
The Fillmore and probably the Independent.
Have you seen a lot of Morrissey shows?
I've been seeing him since 1991—I've followed every tour since. If I'm not seeing him here, then I'll go to London or Manchester or wherever he's going.
Have you gotten to see any small shows of his?
For the most part the shows that he does are slightly on the bigger side. As far as small shows go, Johnny Marr is doing a lot of small shows and he'll be here at the Independent on the 15th, so I'm looking forward to that show.
What is something that has been on your mind?
Happiness and trying to find it. I'm a bit of an introvert and I'm just trying to find bits of happiness in my day.
Have you gotten any good advice lately?
Never date a Smiths fan [laughs]. Two Smiths fans together can be a bit of a lethal combination. Very moody and artsy and it's an overload. But sometimes the double depression like evens you out, you know?
If you weren't at your current job, what would you be doing?
My dream would be to win the lottery, and then I'd be able to go shopping at Saint Laurent and Chanel all day long.
Have you always been a fashion fiend?
Yeah, I like fashion a lot—fashion, art, music. I'm in love with Paris and London, so if I could, I'd live in one of those two cities. Realistically if I had to have another job, I'd like to be a photographer.
Have you studied photography?
I did go to junior college for a little bit for it, my teacher at the time actually harassed me quite a bit because he thought my photos were a bit too depressing . . . So I left and he called me and said that he wanted me to come back but he was just trying to push me harder. And I was just like, oh forget it.
Why did he think they were too depressing?
I don't know! Black and white photos in cemeteries? I don't know. Most people don't usually understand that. Even when I go on vacation now, the first places I want to go to are cemeteries. I find beauty in that, most people think it's a little weird.
Tell me about your outfit today!
This is a Cambridge satchel bag, it's from the UK. My coat is from Zara, my dress is Tory Burch, my necklace is from J Crew and my shoes I got from a spinoff store of Kate Spade called Saturday from New York.