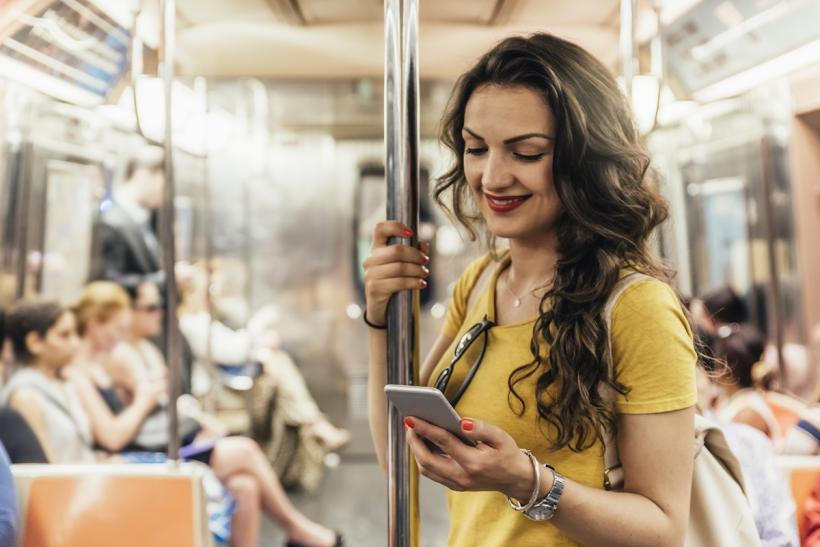 After becoming single for the first time in three years, I was keen to download Tinder.
This article first appeared on SHE'SAID' and has been republished with permission. 
---
After becoming single for the first time in three years, I was keen to download Tinder.
I know, this isn't exactly the most revolutionary thing in the world to declare, especially in 2017. A single 20-something having Tinder on her phone is hardly out of the ordinary.
What is interesting, however, is when I downloaded the app and started swiping left and right, I honestly had no intention of finding a relationship, hook-up, or friend-with-benefits. I didn't want to go on a date with anyone I happened to match with, didn't expect to mend my broken heart and find love through Tinder, and didn't even really want to meet or talk to anyone at all.
I just wanted a distraction.
I wanted something to do with my spare time, and, if we're being honest, I didn't even do the actual downloading. One of my girlfriends grabbed my phone and downloaded it for me, insisting it was "the thing to do when single."
And there was one other secret reason I wanted to use the app; after my breakup, my self-confidence had taken one hell of a beating. It was basically non-existent, which is a well-documented consequence of being left for someone else. When I looked at myself in the mirror, all I saw was a giant "not good enough" written across my head. I saw a woman who was unattractive and undesirable staring back at me because my head was telling me that because my boyfriend had left me for someone else, that meant I wasn't girlfriend material.
Now, the entire premise behind Tinder is to swipe left or right on someone, based almost exclusively on how they look.
So when my phone began to light up with notifications saying "so-and-so has matched with you," I'm not gonna lie — it felt really good.
And when I started receiving messages off men who I considered attractive or even out of my league, telling me I was "beautiful," it gave my ego the reboot it desperately needed in the wake of my breakup.
I'm an outspoken, proud feminist who believes women should not have to get validation from men in order to feel like they're worth something. I want to be crystal clear here. Self-worth should come from within, I know looks aren't everything, and whether or not you're considered 'conventionally attractive' should never, under any circumstances, dictate your worth as a woman or a human being.
I know and believe all of those things. Really, I do.
Which is why a part of me is angry at myself for feeling so good when I got those compliments from guys who, I knew, were likely only messaging me in the hopes I'd hook up with them for a night of easy sex. I know that's what Tinder is primarily for. But regardless of my views, even though I knew the likely-shady motivations of most of these men, and had no intention of ever actually going through with meeting anyone I'd matched with, right in that moment, I just needed some superficial validation. …Is that so bad?
I know I'm not alone in my superficial, albeit conflicting, quest for a quick ego top-up.
In a 2017 study of 3,800 millennials, 72 percent of which used Tinder, over 70 percent admitted they had never gone on a date with someone they'd matched with.
Nine thousand millennials took part in another study analyzing why they used Tinder, and found only four percent used the dating app to look for a relationship, while 44 percent used it exclusively for a confidence boost, and to receive positive comments about their appearance.
Think about it; you get home after a particularly shitty day at work, fling your bra off, slide into your comfy sweats and pour a glass of wine, and can receive compliments from strangers without lifting a finger (well, you'll have to use one to swipe, but the point remains the same), or bothering to shimmy into an uncomfortable push-up bra or heels.
Okay, so it's not completely risk-free. It's Tinder, after all.
Not every message I received was great, in fact, some were downright horrifying; I experienced my fair share of Tinder sex-pests and messages which made me absolutely terrified at the possibility of entering the online-dating world after years of being in a relationship. But, still, my self-worth and self-confidence were the lowest they could possibly be, and there was nowhere else for them to go but up.
It might seem shallow, but after two nights of receiving Tinder messages, I was in a better place. I had gained the clarity I desperately needed; I wasn't unworthy of the male gaze.
It's been a long time since I deleted the Tinder app from my phone. And in that time I've realized it wasn't just getting messages from guys which helped boost my ego and pull me out of the dark place I'd ended up. A lot of it was me, because I got to a place where I didn't need or want random people telling me I was pretty. I realized I was good enough and there was nothing wrong with me, and my relationship ending had nothing to do with how attractive I was or wasn't.
But I'd be lying if I said those messages telling me I was cute didn't help get the ball rolling on my self confidence.
And so I'd like to offer an open 'thank you' to all of the guys who were (probably) just looking for someone to hook up with. Thank you for your corny pick-up-lines and likely-recycled compliments. I want to say thank you for making me smile when I felt like I'd never be able to again. Thanks for filling in some time, and giving me enough of a drop of confidence to crawl out of bed, shower, and get out the door to start moving on with my life.
Except you, Corey. There need to be fewer people on Tinder like you.
Images via Tinder.