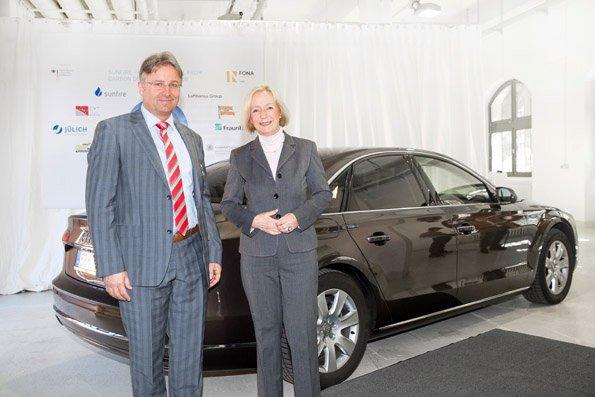 German automobile manufacturer Audi, together with energy company sunfire, has announced that for the first time, it has successfully produced a synthetic diesel from water, air, and green electrical energy. According to Audi, the commissioning phase lasted a mere four months.
A press release from sunfire affirms that "an independent laboratory confirmed that the outstanding characteristics of the fuel are superior to the properties of fossil fuel," as no sulphur or fossil oil were found in the synthetic diesel.
The power-to-liquids technology itself "reaches system efficiencies of about 70 percent." The process requires temperatures of upwards of 800 degrees Celsius. With this high temperature, steam is broken down into its hydrogen and oxygen components. Subsequently, hydrogen and carbon dioxide is mixed under high temperatures and pressures to create a "blue crude," which, finally, is refined into fuels.
Dr. Johanna Wanka of the Federal Ministry of Education and Research declared that this synthetic diesel "is a huge success for . . . sustainability research. If we can make widespread use of CO2 as a raw material, we will make a crucial contribution to climate protection and the efficient use of resources."
Image: Minister of Research, Prof. Dr. Johanna Wanka, and Reiner Mangold, Head of Sustainable Product Development at AUDI AG, refueled the Minister's official car—a Audi A8 3.0 TDI clean diesel quattro—with the first five liters of Audi e-diesel.