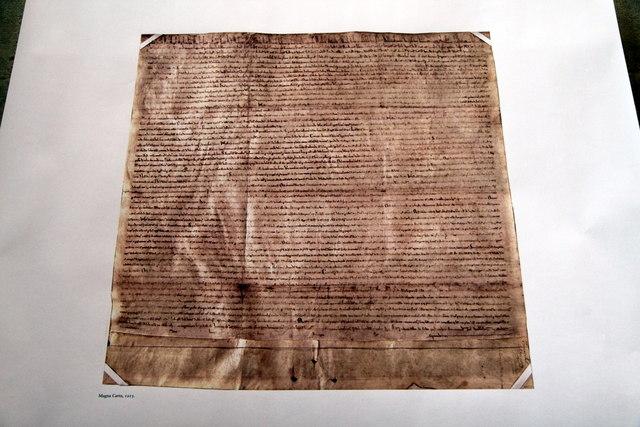 The Queen of England graced the ranks of British royalty as she celebrated the 800th anniversary of the Magna Carta with Prince William, the Duke of Edinburgh, the Archbishop of Canterbury, and Prime Minister David Cameron. 
Wait, were you snoozing in those high school history classes? (Naughty, naughty.)
Allow us to explain. 
The Magna Carta was formed as a peace treaty back in 1215 between King John and angry barons, with a whopping 3,500 word count. Oh, and did we mention it's in Latin? In simple terms, its goals aligned with our U.S. Constitution: The Magna Carta limited the power of the monarchy to prevent corruption. 
The document inspired the Suffragettes, the founders of America, Gandhi, Nelson Mandela, and Civil War fighters. So, basically, it inspired global freedom and democracy. NBD. 
Needless to say, there was considerable celebration surrounding this anniversary. 
The Queen did not speak at the ceremony but did write a foreword of its importance. She wrote:  
"The story of the British Monarchy is intertwined with that of Runnymede and Magna Carta. The values of Magna Carta were not just important to the United Kingdom and the Commonwealth, but across the world. Its principles are significant and enduring."
"[The Magna Carta's principles is] as relevant today as it was then and remains sewn into the fabric of our nation, so deep we barely even question it," said the Prime Minister added. "It is our duty to safeguard the legacy, the idea, the momentous achievement of those barons."
 Cheers to the Magna Carta!