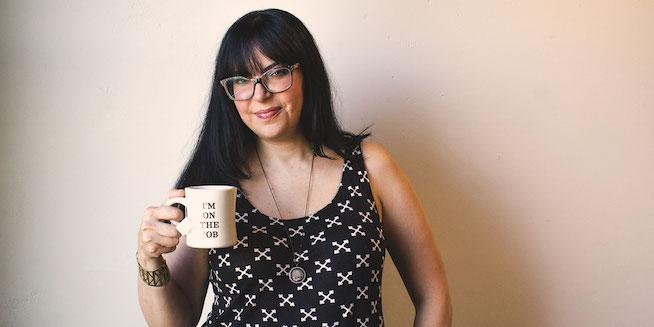 Ravishly staff has a new obsession, and we'd like to share it with you. The Benefits of Gusbandry has replaced the Broad City web series-sized hole in my heart, and I think just about our entire staff would agree. I was emailed the press release for this guy by all of our other editors individually. The pilot episode is fantastic, and I'm so happy to see the relationship between women and gay men being explored in a way that is funny and meaningful all at once. After fawning over the show, the soundtrack, and the cast, I sent Gusbandry creator Alicia J. Rose a few questions about how Gusbandry came to be and what else it has in store.
The Benefits of Gusbandry is unquestionably hilarious, but it also has fantastic music. How did you go about curating and curating the soundtrack behind the series?
I'm a musician myself (accordion/drums/vocals) and I have a long history in the music business and as a giant fan of music. I'm super good pals with Erika Anderson — AKA EMA — and she and I were hanging out a lot during the inception and creation of the show and thought it would be fun to collaborate on the music supervision/composition aspect of things. We basically spent some quality time in the basement searching for female-fronted bands from the local scene and hit the jackpot with Summer Cannibals and Bed. Erika composed her score for the kitchen scene with inspiration from OMD and the Psychedelic Furs (and me telling her to think John Hughes heartbreak moment) and knocked it out of the park. Sutro are pals of mine and I had just gone to their video release for "Sweeten the Deal" and thought it would be perfect for the River/Jackie scene. Princess Superstar is an old pal and we stumbled upon "I Like It A Lot" when in the basement and it just fit so well.  The ass shake lined up perfectly ON THE FIRST TRY. She's a gem for letting us use it!  That's five songs in the first eight-minute episode — OY! Of course there are seven more to come and I look forward to continuing my basement music brainstorm sessions with Erika and hearing what new music she brings to the table.   
Why do you think friendships between straight women and gay men have been so seldom explored in art and film?
It's funny right? But for as common as the relationship is, there's really not a lot out there that goes very deep. In my life, this is a PRIMARY relationship. My first and last calls of the day are with my Gusbands. Before and after heartbreak or on a really bad day, my Gusbands are there to help me pick up the pieces. I think its hard for people to tell the story of this relationship from the outside without skewering it into satire and broad comedy. That being said, I was charmed by Jaime and Illana's relationship on Broad City and loved loved loved Doris and Dom on Looking — thats the most authentic Gusband/Swife relationship I've seen portrayed ever, really. Lauren is a new friend and a LADY I LOVE.
With Gusbandry I want to show a different side of the relationship, explore the romance of a platonic but intimate friendship and take a look at the new non "middle age" me and many of my friends are experiencing. This is NOT what we thought our 40s would be like — it's better, and we're having a blast.
The show has a stellar cast and crew. What has it been like to collaborate with so many awesome people?
Gusbandry has had a lucky charm with it from the start. I swear just about every first choice of collaborator I approached came on board. First my co-writer Courtenay Hameister, who is one of the funniest LADIES I LOVE kicked my ass into gear with breaking my stories down into scripts, then my producer Lara Cuddy jumped in to get the production wheels spinning, then lead actress Brooke Totman sealed the deal with her one-of-a-kind acting/comedy chops. Once I had that core of collaborators the process literally flew by. Each of them has brought immense talent and skill to the table and made it possible to go from inception of the concept in April (of this year!) to pilot premiere in September. It's incredible to get to collaborate with them as well as the many other badass geniuses that have offered their talents to the Gusbandry team — many of them women — they make me better at my job, and they made the show the best it could be. I'm so proud of this Gayby. We all are.
What made you decide to present this story in the form of a web series? As the popularity of the medium continues to grow, how do you think web series will affect the way we consume media?
I'm a bit of an early adopter and a huge fan of episodic TV — the web series format seems like a fresh way to make original content without having to play into the traditional Hollywood system. I have made over 24 music videos and wanted to experiment with short form narrative comedy storytelling, but wanted to be able to create an original uncensored show with characters and plots that could evolve and link together thematically. On a small budget. It was also important to me to make it myself without being boxed out of the equation by the powers that be (which has happened to me before). A web series seemed like the most egalitarian and fun way of making this kind of show available.
In the pilot episode, Jackie has a pretty wild 40th birthday bash. What has the process of creating a setting for your characters to exist and thrive in been like?
Well . . . her 40th birthday party is pretty much ripped from the reality of my own 40th birthday, down to the coke on the boobs and the Wonder Woman jumping out of a giant birthday cake. Of course, in the real version, it was Ritchie Young (of Loch Lomond) dressed as Wonder Woman, but many of the details are the real deal. Across all the episodes, many of the stories and settings are drawn from my own life, or the imagination of me and Courtenay. It's fun to get to take things a little further than reality too — like in our 3rd episode, "FML," when River and Jackie aspirationally trade places in the dating world and she winds up on a date at the Glory Holes of Fantasy Video — that never happened to me, but I've ALWAYS been fascinated with my Gusband's access to drive-by quickie glory hole sex, so it seemed like a natural place to put Jackie to the test. And it paid off — SO hilarious. Can say no more!
Since we call this series Ladies We Love, what ladies are you loving right now?
Well, to recap: Erika M. Anderson (EMA), Lauren Weedman, Courtenay Hameister, Lara Cuddy and Brooke Totman. Also Diane Bell of Rebel Heart Filmmaking Workshop — she kicked my ass into gear during their Portland workshop and Gusbandry was born right after! Mazel ladies!