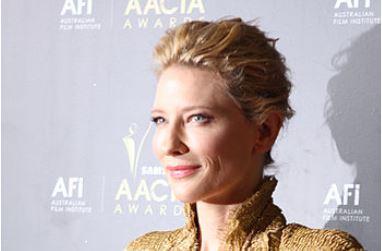 Hooray! When not making news for Twitter selfies, the Oscars were quietly being pretty cool and progressive. Consider the nominees for all the big-ticket categories: African-Americans (or in the case of Steve McQueen, an African-Canadian) won in the best picture and best supporting actress categories. Best actor was won for a portrayal of a gay man, and best supporting actor for the role of a transgendered woman. And best director was won by a Spaniard.
Women got a nice fist-pump moment, too, when Cate Blanchett won for a role that—while not particularly kind to women—at least had a strong female protagonist at its center. As Blanchett charmingly pointed out, "The world is round, people!" and film-goers will indeed go see a movie with a female in the lead. Because, you know, half the population is women. This isn't rocket science, y'all!
We did some digging around and found how sadly right Blanchett was on this fired-up point. Here's the rundown on gender focuses in films nominated for best picture over the past three years. Note that Blue Jasmine isn't on the list, since it wasn't nominated for best film, and that we excluded movies with ensemble casts in which men and women played an essentially equal role. The envelope, please:
2013: Two films with a lead female protagonist (Philomena, Gravity) vs. six with a lead male protagonist (Dallas Buyers Club, Captain Phillips, Her, 12 Years a Slave, Nebraska, The Wolf of Street).
Ratio of female vs. male: 25%
2012: Two films with a lead female protagonist (Beasts of the Southern Wild, Zero Dark Thirty) vs. four with a lead male protagonist (Argo, Lincoln, Django Unchained, Life of Pi).
Ratio of female vs. male: 33%
2011: One film (!) with a lead female protagonist (The Help) vs. seven (!!) with a lead male protagonist (The Descendants, The Tree of Life, Moneyball, War Horse, Extremely Loud and Incredibly Close, Hugo, Midnight in Paris)
Ratio of female to male: 12% (!!!)
Hmmm, do we sense a pattern here? It should be noted that this isn't necessarily the fault of the Academy, but rather a dearth of quality films focused on women in general. Blanchett was right on to decry this pathetic situation from the podium. Now, if we could not only kick up these numbers, but make fewer sexist films, we'd really have something to fist pump about.
Altogether, now: The world is round, people!
Image: Wikimedia Commons