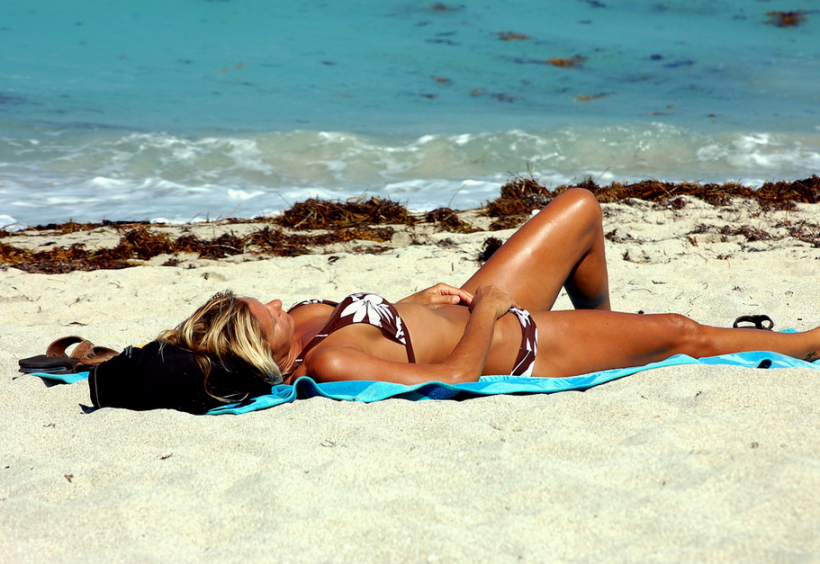 No lie, I'm probably the palest person you will ever meet. My German mother and British father have cursed me with pure white (borderline translucent), begging-to-be-burned skin. I'm so pale that my facialist has me in her computer as "Snow White." I once got sunburned in Seattle, in December. Oh, and one time? A homeless man in Boston Common told me I was pretty, but "a little sun wouldn't hurt." 
So it goes without saying, I'm a sunscreen aficionado. Since spring is here and summer is coming fast, you should probably step up your sunscreen game. I recommend wearing sunscreen everyday, but I'm not going to get all "Mom" on you and remind you of the dangers of tanning—I'll let Tan Mom tell that cautionary tale. Instead, here's a list of the least greasy, least offensive smelling, least sunscreen-y sunscreens—a list that's taken almost 30 years to perfect.
Best daily wear: Neutrogena Pure & Free Liquid Sunscreen Broad Spectrum SPF 50, $12.49
Weightless in feel yet ultra moisturizing, Neutrogena's Free & Clear line is so light you'll feel like you're wearing just a daily moisturizer. What's more, the quick-absorbing formula vanishes, meaning no more wasting time in the morning, waiting to put on your make-up.
Best all-day SPF coverage: La Roche Posay Anthelios 60 Ultra Light Sunscreen Fluid, $29.50
Don't ask me to pronounce it, but La Roche Rosay's Anthelios line offers the best combination of chemical protection and minimal greasiness. Perfect for all-day events, like outdoor weddings, baby showers, flea markets or anytime you need full SPF coverage under a face of make-up, Anthelios 60 won't leave a ghostly white sheen on your face.
Best for the beach: Coppertone Oil Free Faces SPF 50, $7.43
You know you need to reapply every time you go in the water, when you sweat, towel off—or in my case—roughly every 10 minutes. Coppertone Oil Free Faces (but feel free to apply all over your bod) is ideal for constant reapplication because it won't clog pores and it's super inexpensive. I buy mine in packs of 10.
Best for the lazy: Banana Boat Sport CoolZone Continuous Spray SPF 50, $9.99
If squeezing sunscreen into your hand and rubbing it onto your skin is just way too much work, then Banana Boat's Continuous Spray Collection will be your jam. The CoolZone mist features some refreshing menthol action, ideal for hot summer days when all you can do you is lie on a chaise while a minion feeds you grapes.
Best for the sunscreen-scared: L'Oreal Paris Sublime Sun SPF 30
With its orange and gold packaging, Sublime Sun fools even the most faithful tanners into wearing sunscreen. The dry-oil texture, thanks to vitamin E and white grape seed, gives you that much-coveted, ultra-shiny Jersey Shore look.
Image: Flickr