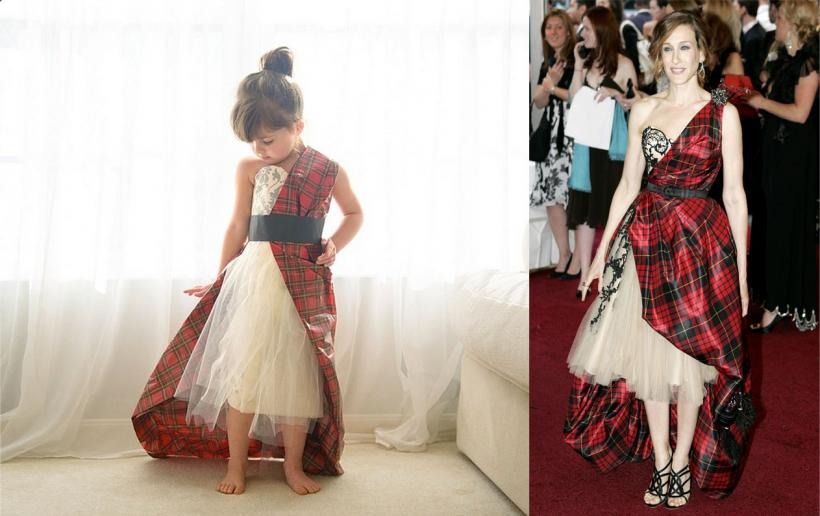 Think back to February (can you believe it's already May?). Remember Mayhem, that adorable little girl who, with the help of her mother Angie, recreated the Golden Globes' most talked about fashions out of paper and became an instant Instagram sensation? Lopita Nyongo's capetastic scarlet red Ralph Lauren Dress was perfectly reconstructed with large squares of folded tissue paper, and Jennifer Lawrence's voluminous (albeit polarizing) Dior was dead-on-identical, complete with hand-on-hip pose. The world fell in love with Mayhem and Angie's blog, Fashion By Mayhem, which offers how-to instructions for each dress, became an overnight success.
375,000 Instagram followers later, Mayhem is back, and just in time for the Met Ball. Vogue tapped the budding fashionista to recreate the gala's most iconic looks, including Sarah Jessica Parker's tartan and organza frock from 2011's Alexander McQueen: Savage Beauty exhibition, Lauren Santo Domingo' bow-crazy de la Renta from 2012's Schiaparelli and Prada: Impossible Conversations and our personal favorite, Ashley Olsen's billowy-sleeved vintage Christian Dior gown from 2011. 
Turns out, Olsen's dress is also Mayhem's most-loved. The young model told Vogue.com, "I like the color and the sleeves," she said. "They're puffy. And puffy sleeves are awesome." A girl who's always offering up her brutally honest opinion, now that's a fashion editor in the making.  
Image: c/o @voguemagazine Instagram