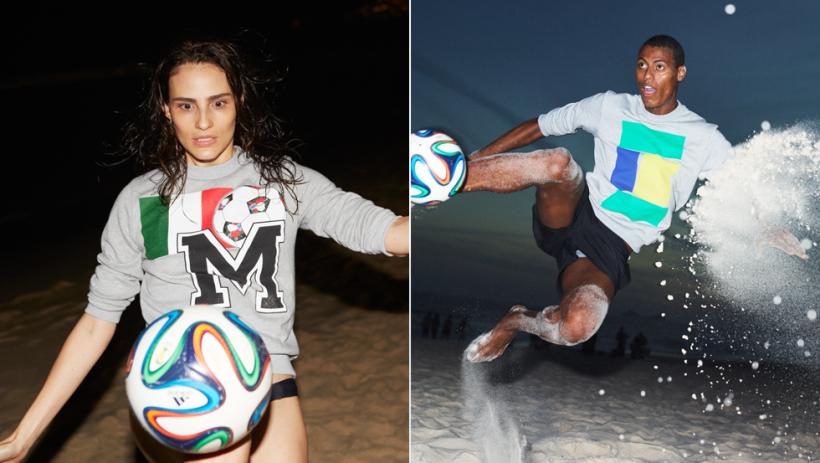 I'm admittedly not a huge sports fan, but I do love me some World Cup. Like the Olympics, everyone comes together in a common viewing experience, but unlike the Olympics which can be rather divided (for obvious reasons) there's something damn exciting about the whole world rallying around one sport.
Also, unlike the Olympics—whose fashion statements are usually comprised of ugly sweaters and oversized parkas—the World Cup always turns out some great fashion collaborations. It probably doesn't hurt that Brazil is this year's host—if there's anything Brazil knows how to do, it's fashion.
Want to get your fan on in the most fashionable of ways? Check out our curated selection of totally affordable and surprisingly on-trend World Cup fashion.
If you're rooting for Spain:
Discount ecommerce retailer, Yoox collaborated with Sepp magazine on a line they're calling the #yooxsoccercouture collection. Made up of designer sweatshirts representing different countries, from the likes of America's Opening Ceremony, Nigeria's Duro Olowu, South Korea's Junn.J and Australia's Ksubi, the sweatshirts are all made in Italy. Our personal favorite? Madrid-based designer Agatha Ruiz de la Prada, who created a heart-shaped soccer ball out of Spain's national colors of yellow and red.
If you're rooting for England:
In order to wear these team colors, you may need to watch the World Cup in the privacy of your own home. (Unless you're an exhibitionist in which case, go forth!) ASOS' three pack of underwear is dedicated to England (it even has a Union Jack style) and features white, blue and red styles. Go ahead, cheer in your undies.
If you're rooting for France:
TEXTILE Elizabeth and James (Mary-Kate and Ashley Olsen's denim and basics brand) has teamed up with Shopbop to design a totally French, totally wearable t-shirt. Complete with red and white bateau stripes and baby blue type, we'll be wearing this top even once the World Cup is long over.
If you're rooting for Mexico:
Ariba Mexico! And I'll take any excuse for a crop top. Forever 21 had numerous styles for Germany, England, Italy and Brazil, but we can't help but be partial to this vintage-inspired tribute to Mexico.
If you're a general soccer enthusiast:
Melissa, Brazil's most fashionable shoe brand, has created a style that only a football fan could love. The collaboration with the one and only Karl Lagerfeld features a d'Orsay shape with a giant soccer ball on top. This is some truly literal shit.