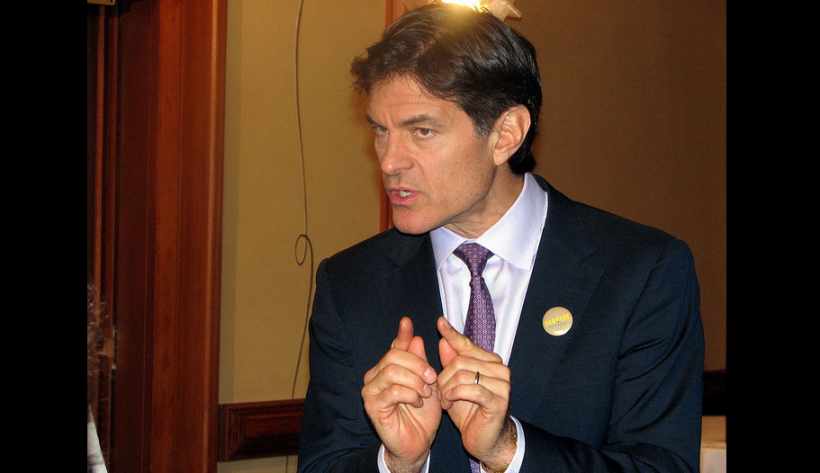 Renowned physician Dr. Mehmet Oz appeared before the Senate Commerce, Science, and Transportation Committee yesterday—and got totally smacked down. The talk show host—one of the top paid in the country—was taken to task for his role in false advertising for weight loss supplements. Poor bastard. 
Senator Claire McCaskill—chairwoman of the subcommittee on the Consumer Protection, Product Safety, and Insurance—headed up the panel, which was looking into a "crisis in consumer protection." According to the Federal Trade Commission, false advertising for weight loss products is the most common consumer protection fraud. In fact, the FTC told CNN, there are just "too many" fake weight loss products on the market to sue all the companies responsible for them. As a result? Guileless Americans are pouring shit tons of money into worthless supplements—$2.4 billion last year alone.
And this is no small part thanks to Dr. Oz, who garners record numbers of viewers for his shows on weight loss—as many as three to four million people tune in to drop weight. Which basically consists of the esteemed doctor making fantastic claims about dubious supplements like green coffee beans and Garcinia cambogia. Words like "breakthrough," "magic," "holy grail" and "revolutionary" are bandied about like a drunk playing pinball.
Science Says, "Oh Hell No"
So what's the problem? Oh, just that science has roundly debunked the "magical" qualities of these supplements. Instead of being "the simple solution you've been looking for to bust your body fat for good," for example, Garcinia cambogia does no better than a placebo for weight and fat loss. And though Dr. Oz isn't hawking such products directly, he does admit: "I use language that is very passionate . . .  and it provided fodder for the unscrupulous advertisers."
Senator McCaskill came out swinging in her admonishment of Oz's practices: "The scientific community is almost monolithic against you in terms of the efficacy of the three products you called 'miracles.'" She went on to express her disappointment over how Oz's rhetoric gives viewers false hope and expressed how she wants "to see all that floweriness, all that passion, about the beauty of a walk at sunset"—i.e., exercise, a weight loss tactic that's apparently tremendously useful in any weight loss program. 
Senator Amy Klobuchar also had a salient point: "It's a major problem when people are spending more and more money and they're gaining more and more weight." And a major problem it is. Obesity-related costs amount to an estimated $190 billion in medical care annually. A 2012 study in the American Journal of Preventive Medicine forecasted that America is on track to rack up $550 billion in obesity-related health care spending by 2030. 
So when Americans are blithely pouring millions of dollars into green coffee bean dreams, it's no wonder senators—and just about everyone else on the planet—are pissed at those who help enable the fraud.
McCaskill also questioned Oz as to why he squanders his societal clout with silver-lined lies: "I don't get why you need to say this stuff when you know it's not true. When you have this amazing megaphone, why would you cheapen your show?" And yes, she even invoked Spiderman's Uncle Ben/Voltaire to shame the famed host, reminding him that "with power comes a great deal of responsibility."
Oz's reply?
My job, I feel, on the show is to be a cheerleader for the audience, and when they don't think they have hope, when they don't think they can make it happen, I want to look, and I do look everywhere, including in alternative healing traditions, for any evidence that might be supportive to them.
This is coming from a man's who's a freaking cardiothoracic surgeon. Lame doesn't even cover it.
After the panel, the dubious doctor said: "I heard the message and I get it." Given his massive viewership and a just-released report that ranks America's healthcare system dead last in the developed world, we sure hope so. 
Image: Wikimedia Commons