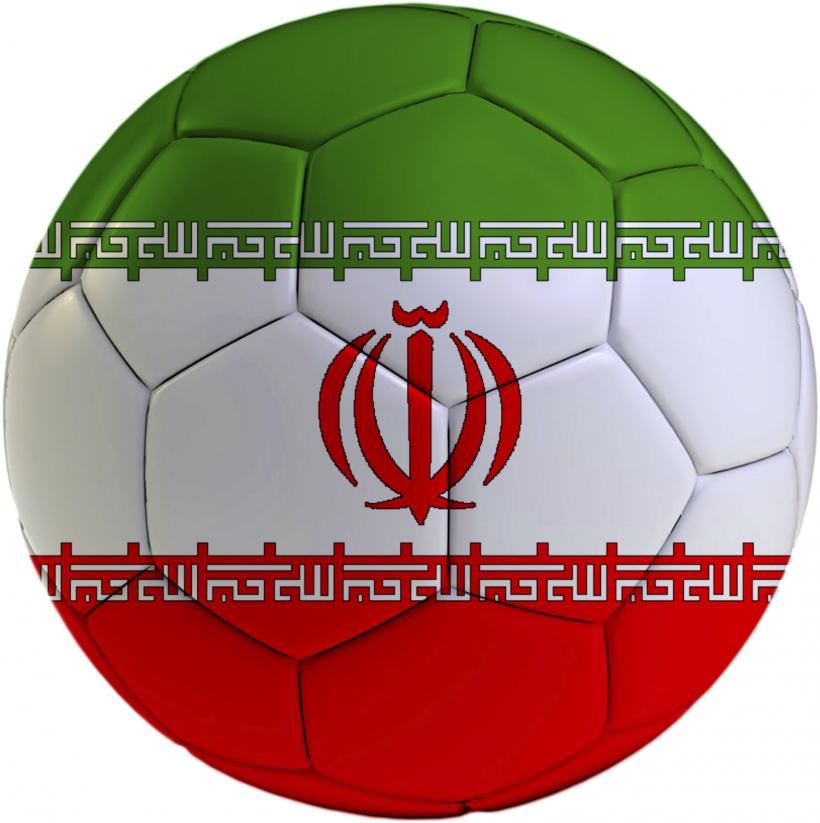 If you look at the stands of tomorrow's World Cup match of Iran vs. Bosnia and Herzegovina, you will likely see three different kinds of flags among the Iranian fans—as was the case in their first game against Nigeria. These fan mementos aren't of the zany variety displayed so often at the sporting event (oh you orange Dutchmen!). Rather, they represent competing political persuasions regarding the Persian motherland, and for what they want Iran's jerseys to signify.
Clearly for many countries, soccer is a meaningful part of civic life, typically in a drinking-with-friends, making-small-talk, screaming-at-the-television sort of way. But, as several commentators have noted, soccer in Iran has become increasingly meaningful and politicized under a repressive regime that quashes free speech.
Let's deconstruct the history and on-going development in Iran's flag-dom and fan-dom.
Raise Your Flag
Here's the skinny on the three camps of flag wavers.
One is the official emblem of the Islamic Republic of Iran with an Islamic symbol featured in the center, donned by members of the ruling Revolutionary Guard and ordinary censorship enthusiasts alike.
The second flag bears the traditional image of Iran: The lion and the sun. These fans constitute the opposition to the theocratic regime and call for democracy.
The third category is the Iranian equivalent of
Switzerland
. Their flags show Iran's colors without any sign at all in the center, or just feature the word "Iran" (clever!). Granted, even these supposedly neutral Nellies implicitly question the current regime by avoiding the Islamic sign.
So essentially, if you're an Iranian fan, your flag is politicized no matter what. Drama!
A History of Soccer Activism
How did this war of the soccer flags come to be?
The Iranian regime's strict control of typical venues for civic expression means that conveyance of political belief seem to well up in the limited mass-gathering and interactions that are allowed. Enter everybody's favorite sport: Soccer.
The first major protests challenging the Revolutionary Guard occurred in the aftermath of a World Cup qualifying match between Iran and Australia in 1997. Iran's win prompted celebration in the streets of Tehran, which then quickly turned into protests challenging the government.
The unsurprising response? The Guard has sought to increase its control over soccer—both the sporting institutions connected to it, and citizen involvement. In 2006, Iran was even temporarily suspended from FIFA competitions for its improper meddling.
Even so, supporters of each side have still found ways to show their colors in soccer matches. While regime supporters showed images of government religious leaders in a game against the U.S. in 1998,  six national team players wore green bands in support of the anti-regime Green Movement during World Cup qualifying in 2009. And though it is illegal for women to enter sporting stadiums in Iran, they have protested this type of regime gender oppression by sneaking into World Cup qualifying matches anyway—sometimes even without hijabs (#iranporn).
What Might This World Cup Hold?
Reportedly, Iranian dissidents at home and abroad are discussing potential political actions during the World Cup, so this is a real-time phenomenon that the regime is no doubt uber antsy about.
So what's an American fan to do? Root against our sworn enemy, an axis of evil in the world? Or wish the team well, as more wins could translate to more civic action back in Iran? Or for this very reason, wish them ill since government overthrow and attempts at democracy haven't panned out too well in the Middle East of late?
Then again, Bosnia and Herzegovina has its own problems deserving of sympathy . . . Excuse me while I continue down the rabbit hole of World Cup geopolitical ethics. But in the meantime, U-S-A!
Image: ThinkStock