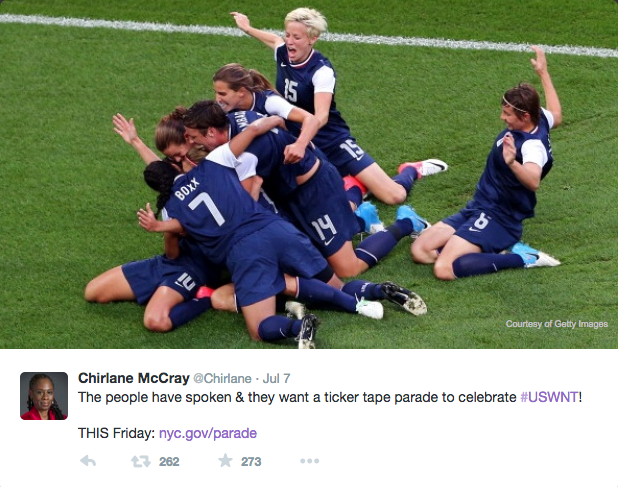 Why has it taken this long for New York to celebrate an all-women's team with a parade?
After the U.S. Women's National Soccer Team defeated Japan last weekend in the Women's World Cup with a 5-2 win, they will be honored today with a parade at the "Canyon of Heroes" honor in lower Manhattan. Not only was this the most-watched soccer game in U.S. history with 27 million viewers, but this will also be the first female sports team to get their own parade in New York history.
"The people have spoken and they want a ticker-tape parade," Chirlane McCray, the New York City mayor's wife, wrote on Twitter.
Take a moment to appreciate that. The famed streets of New York have been walked by heroes like Amelia Earhart, and various (yet forgettable, #sorrynotsorry) Olympians, but never before by an all-women's sports team. Oh my. Isn't it 2015? 
Anyway, back to the happy part. This soccer team is also notable for openly out players, such as Megan Rapine, Abby Wambach, and Coach Jill Ellis.
"We didn't come here to take second place," said team captain Carli Lloyd in an interview with Good Morning America. "We came here to win it, and there was something different in the air with these last few games with our team. I think we all believed. We all knew it. We felt it and what a convincing win today to get it done."
The parade will cost $2 million, and will have several corporate sponsors, such as Major League Soccer and Electronic Arts, Inc.
VIVA AMERICA!
(But really, why has it taken us this long . . . ?)