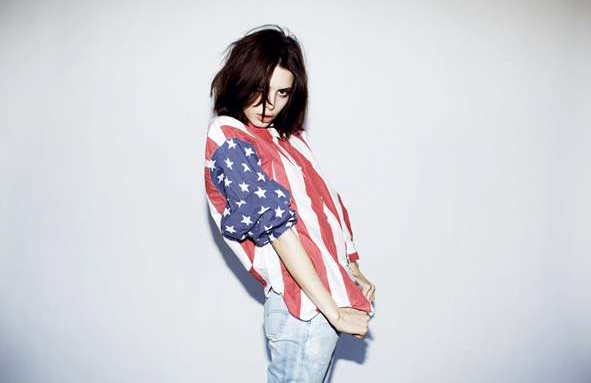 Dressing for the Fourth of July is hard. It's hot, it's humid. There's sun, sweat, sand, bugs and beers. You need a look that goes from day to night, is casual but not sloppy, and is spirited but not so patriotic that you look like you should be marching in a parade (unless you are marching in a parade, in which case, let your freak flag fly).
Want to celebrate the day and still look on-trend? Shop our patriotic picks. Bonus: They're all low-key enough to be worn throughout the rest of the summer.
Our of our favorite denim brands, Current/Elliot, knows how to get festive for the fourth. We love the subtle metallic stars on the brand's much-loved Stiletto shape. We'd wear this with a basic white tee and some gold sandals.
Sure, the supermodel's newest collection for Topshop was kind of meh, but this flowy sequined camisole is super cute for an evening barbeque. Plus, the lack of red, white and blue makes it ideal for your post-Fourth wardrobe. 
The old staple, done in red, white and blue. Buy them for the fireworks and wear them forever.

Taking your barbeque on the road? Fill this backpack with beers and snacks and you're good to go.
Not into stars and stripes forever, but still want to look like you know what day it is? J.Crew's simple shift dress is so light and breezy, and the Morroccan-inspired medallion print reminds us of fireworks.  
With soft tailoring and a feminine scalloped edge, these Maison Scotch shorts are super versatile. Dress them up with a white blazer and pumps for work, or wear them with a chambray top and sandals for the big day. 
Images: c/o Urban Royalty, Shopbop, Net-a-porter, Asos, J.Crew