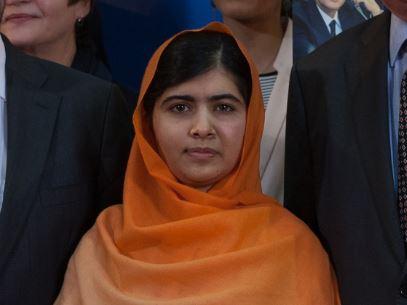 Happy Malala Day, y'all!
So what's the deal with this holiday? More than about just celebrating famed girls rights advocate and possible bravest teenager on the planet Malala Yousafzai's birthday (which was yesterday), according to the UN:
It is a day for all children everywhere to raise their voices and be heard. It is a day to stand up for education and say to world that we are stronger than the enemies of education and stronger than the forces that threaten girls, boys and women from leading happy and productive lives.
And where is Malala celebrating the beginning of her 17th year? Why, in Nigeria of course. It's a fitting locale for Malala's continued advocacy, given that more than 200 of the Chibok girls kidnapped in April remain trapped under Boko Haram. Malala hopes to bring the families of these girls hope—and she's doing that and more by bringing more focused attention to this horrific human rights catastrophe, especially since #BringBackOurGirls has basically fizzled.
Nearly 60 girls recently escaped from the clutches of the extremist group Boko Haram, but the majority of them remain trapped—and likely subjected to mass rapes and other such horrors. Their bravery, according to Malala, has encouraged her newest #strongerthan campaign, taking off today on social media: "I am hopeful that everyone will say that we are stronger than any kind of violence and fear," she said.
In addition to the mass kidnapping of schoolgirls, Malala is focusing on Nigeria as the country is facing a dire education crisis—Nigeria claims the worst national primary school attendance record, with more than 10 million children in the country between the ages of 6 and 11 not in school. 
"The children need emergency help in their education," Malala said. "We are giving them scholarships and we want them to get quality education, to get security, and to get safety as well."
So who exactly is this endlessly badass 17 year-old?
A

Brief Malala Recap
At age 10, Malala started down the road of becoming a globally recognized advocate for girls and women while living under a repressive regime. (I'm not quite sure what I was up to then but it was definitely more along the lines of watching Nickelodeon). At that youthful age, Pakistan-born Malala gave a speech called "How dare the Taliban take away my basic right to education?"
Age 11? She began penning an anonymous diary for the BBC about life under the Taliban and how girls desiring to going to school were being targeted. So yeah, while we were likely trying to wrap our minds around photosynthesis, Malala was saying this:
I had a terrible dream yesterday with military helicopters and the Taleban. I have had such dreams since the launch of the military operation in Swat. My mother made me breakfast and I went off to school. I was afraid going to school because the Taleban had issued an edict banning all girls from attending schools.
In 7th grade, Malala's diary had taken off and her identity was revealed—and then she really got going speaking out publicly about girls and education, in interviews and you know, in a documentary filmed by the New York Times. No big. 
Of course the Taliban was not down with any of this so they issued a death threat against her—yes, against a 14 year-old girl. Her parents, caught between a rock and a hard place, didn't want to yank her out of school, knowing it was the only path for a solid future, but also wanted to keep her safe. They decided, though, that there was no way the Taliban would actually hurt a 14-year-old girl.
They were wrong.
In October 2012, gunmen boarded her school bus and shot her—in the head. The courageous 14-year-old survived and continued her advocacy undeterred. She gave her first public speech in front of the UN . . . at age 16.
Malala's Message
For Malala, the key to fighting the kind of extremism that almost took her life is straightforward: education. As she said in her UN speech:
For me, the best way to fight against terrorism and extremism is . . . just a simple thing: educate the next generation.
As for the terrorists:
The extremists are afraid of books and pens. The power of education frightens them. They are afraid of women. The power of the voice of women frightens them.
And Malala is doing far more than it seems just one—especially teenage—person is capable of to scare the shit out of terrorists and empower girls and women.
Screw Chuck Norris, we can't imagine him or anyone else being #strongerthan Malala.