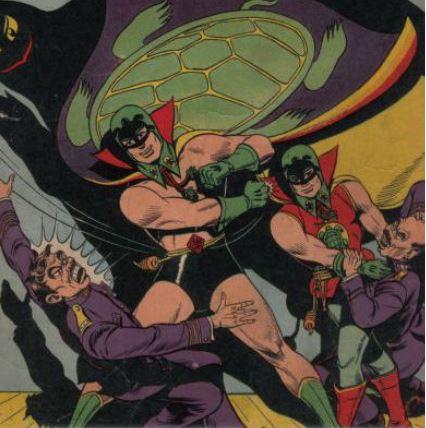 Does the name "Green Turtle" ring any comic book bells for you? Unless you're an avid fan of World War II-era comics, or 20th century Chinese-American pop culture, probably not. But this color-plus-amphibian moniker represents what many consider to be the first Asian-American superhero. Appearing first in 1944, the Green Turtle lasted only five issues, but he left a fascinating and mysterious mark in comic history. Now, seven decades later, cartoonist Gene Luen Yang and illustrator Sonny Liew have revamped the neglected superhero in their new graphic book, The Shadow Hero.
Short-Lived Hero of China
In the original series, the Green Turtle rocks a Mexican wrestler sort of look—he's bare-chested, wearing classic superhero underwear with a green cape, boots and mask. All the better to show off his intimidating muscles as he defends America's allies in China against Japanese invaders (who are depicted on the covers with every conceivable stereotype used to portray nefarious Asians).
Like Batman, the Green Turtle doesn't have explicit superpowers, but he does have his own plane, a home-base cave, and a Robin-esque sidekick called Burma Boy (who brings that country's Japanese-repulsion efforts to the table). And grit in the face of Japanese injustice.
But the series ended before the audience was provided with details about the Green Turtle's background, even leaving his ethnic identity unclear.  
Fight Over Identity
It seems that while the Green Turtle's creator, Chu Hing, wanted the character to be Chinese-American like himself, the publisher wasn't keen on the idea. Against the backdrop of America's "yellow peril" hysteria about a potential over-population of Chinese immigrants that was later extended to Japanese aggression in the war, there was concern that any Asian character might not sell.
So while the Green Turtle's racial identity was kept ambiguous—he always wore a mask, and didn't give readers a good look at his face—his skin was colored in a pinkish hue, in contrast to the more orangey shade of the comic's Chinese and Japanese characters. This left believable room for whiteness—for all those apple pie American boys with change to spare on comics.
The New Green Turtle
Feeling the Green Turtle never got his fair due, Yang wanted to resurrect the character and honor Chu's intentions to make him a bridge between China and the U.S.—and even all of humanity. (In one of the original storylines, Chu included an old Chinese proverb that reads, "Four oceans, one family.")
So this time around, Yang focuses on the Green Turtle's backstory, revealing him as teenager Hank Chu (catch that homage to the creator?), the American-born son of Chinese immigrants living in a fictional California coast city in the 1930s. Hank receives the obligatory superhero transformation, going from skinny kid to a top crimefighter in his city.
But the character struggles with being caught between competing expectations that mirror those of immigrant kids generally: his identity in Chinatown, versus the broader outside world. In this way the comic revamps a quirky and little-known comic narrative from the 1940s, but adds elements to make the story relevant to Asian-Americans even in the modern U.S.
That's quite the accomplishment—an dare I say, a superhuman feat!
But What About the Name?
And as for the Green Turtle's kind of corny-sounding name (not there's any shortage of that among superheroes)? In the original series this title was also left as a mystery, but Yang has tried to up Green Turtle's respectability by connecting the name to the celestial tortoise—which is one of the four guardian animal spirits in Chinese mythology.
And really, if we can all get on board with Japanese-ish, Italian-ish mutant ninja turtles, a more straight-forward Chinese turtle narrative doesn't seem like too much to grant.
Image: Wikimedia Commons