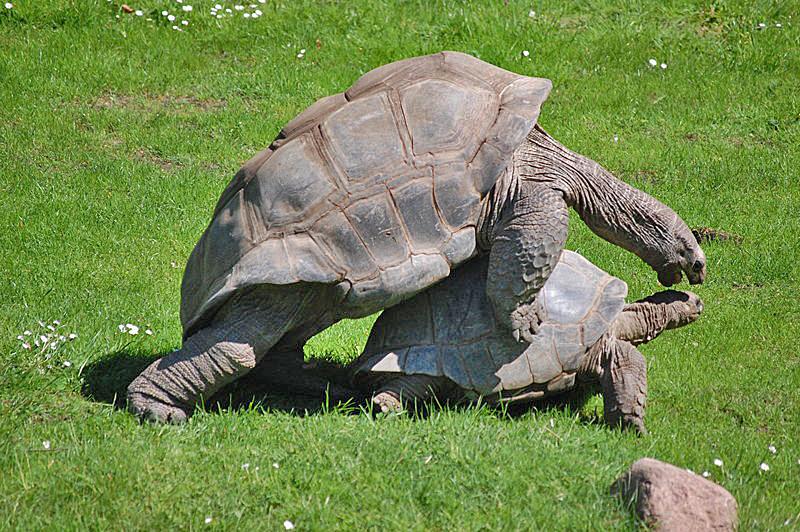 Galapagos SEXY TIME
"I wouldn't have sex with you if you were the last man on earth!"
"Well, what if I were the last male Galapagos tortoise on earth?"
"I'd…wait what?"
That could be a bit of dialogue from a biopic on the life of Diego, a 100-year old male Galapagos tortoise (Chelonoidis hoodensis, for all you tortoise afficiandos out there). 50 years ago, he was languishing in the San Diego zoo, just doing tortoise things, when scientists realized that he could potentially help save his species from extinction.
At the time, there were only 14 such tortoises living on the island of Espanola; 12 females and 2 males. The population was likely to dwindle even more given the geographic spread of the animals on the island. They basically were too far apart to mate.
Enter Diego. He was brought to the island and placed in an enclosure with 6 female tortoises. The result? Well, birds do it. Bees do it. Even Galapagos tortoises do it! Diego did it - A LOT! Scientists estimate he has fathered about 800 young, who have then been released into the wild.
Recent genetic testing of the Espanola population of tortoises show that nearly 40% of the animals living there have Diego's DNA.
Go, Diego! Go! Git busy! Save your species!
Washington Tapia, a specialist at Galapagos National park, where Diego resides, says, "I wouldn't say [the species] is in perfect health, because historical records show there probably used to be more than 5,000 tortoises on the island. But it's a population that's in pretty good shape — and growing, which is the most important."