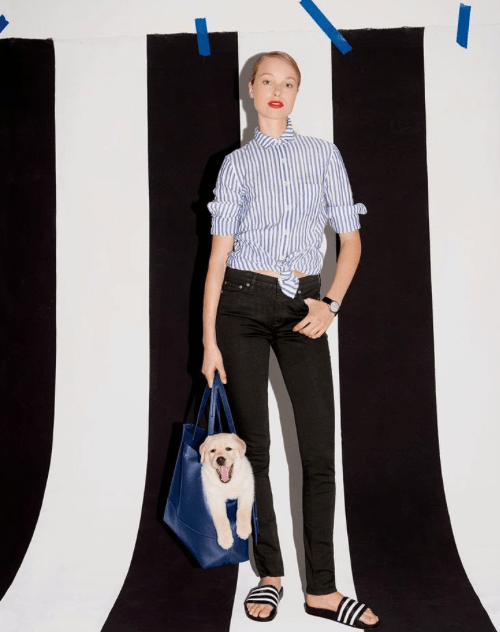 J.Crew's famous "Style Guide" (a fancy word for catalogue) is making the rounds in mailboxes and at stores this week, and the unthinkable has happened—the company is embracing normcore, and not in a good way. J.Crew, the brand synonymous with bedazzled oxford blouses, sequined sweatshirts, blue suede pumps and orange lipstick, is showing its signature preppy looks paired with the Adidas' Adilette slide sandal for fall. Shudder.
A favorite of street style bloggers and normcore enthusiasts, the sandals are unflattering, unisex and only look good if you are 5'10", bean-pole thin and your outfit was meticulously crafted by a professional stylist and flanked by an urban-chic loft. (And even then, the "look" is still more-than-dubious.)
We're shocked that J.Crew didn't put out a disclaimer on the shoe—"Caution: The Adidas Adilette sandals should only be worn and operated by people with impeccable personal style. Proceed with caution or risk becoming a fashion victim."
Yes, J.Crew often takes cues from street style blogs—think baseball hats worn with shirt dresses or patent oxfords teamed with leather shorts—but the styling is always super accessible, so it's nothing that the brand's target customer can't handle.
Which is why we feel like we need to give J.Crew shoppers a little P.S.A on these Adidas sandals. Think of it as a how-to-wear guide, or better yet, a how-to-not-wear guide:
Do wear them to the beach, but only if you are going straight to the beach and then straight home.
Do not wear them with socks, unless you are a college-aged male. If you are a college-aged male, good luck getting laid.
Do wear them with a T-shirt and jeans/shorts, but only if you are doing the following activities: camping, gardening, washing your car, taking your dog for a walk, showering in a place that has questionably clean floors.  
Do wear them to and from a work out. This makes sense.
Do not wear them to work, like J.Crew has suggested. Shame on you J.Crew, shame.