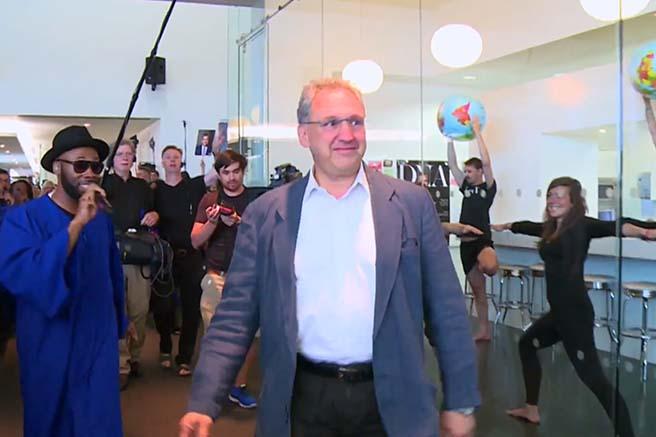 When a job exit goes viral, it's usually because it's epically bad—a disgruntled employee sends out a mass email to the entire company outlining his grievances, or a worker makes a video explaining via cue cards how horrible her boss is—you get the idea.
Such is not the case with Net-a-porter's CEO Mark Sebba, who retired yesterday after an 11 year tenure at luxury fashion etailer Net-a-Porter. Based on the tribute the staff put together in his honor, it's pretty obvious that they think Sebba is the best thing since sliced bread. And it makes total sense. We've all had our fair share of horrible bosses, so when we finally get a good one, all we want is to shout it from the rooftops: "You're the man! Thank you for not being a total ass!"
The epicness of the video will make you cry! Sebba walks up the escalator on his final day and is greeted by his entire staff (all dressed in black and white, (this is a fashion company after all) and a roaring applause. There's a gospel choir and a mariachi band, all singing a personalized, fashion version of Aloe Blacc's "The Man." (Hats off the lead singer in blue. Does he do birthday parties?) As Sebba walks through the office, he sees headdress-wearing Vegas dancers, employees dancing on desks, Chinese dragons, acrobats, even a naked man holding a "Mark Sebba is the MAN" sign over his fancy bits.
The flash mob even features Net-a-Porter's global offices in New York, New Jersey, Shanghai and Hong Kong via live steam, and they're all in on the choreographed dance as well. It's pure joy! 
When Sebba finally gets to his desk, he gets his morning coffee by Net-a-Porter's founder Natalie Massenet, and we can tell, he is clearly touched albeit overwhelmed. And like any other boss at any other company, he thanks his staff for the display of affection and promptly tells them to "get back to work."