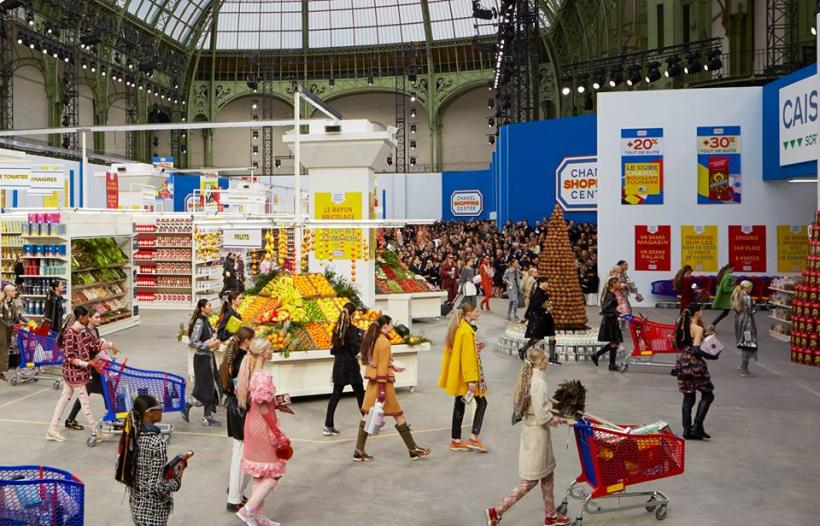 Images Courtesy of Facebook
The neon lights, the clunky shopping carts, the screaming kids—few would contest the fact that supermarkets are just about the least sexiest places on earth, so it's no wonder we all generally wear rags when cruising the aisles. Hell, even celebrities do it, because who the hell wants to dress up for a meeting with Cheerios?
Trust Karl Lagerfeld to perform some alfalfa sprout alchemy however, transforming this musty corner of everyday life into a cornucopia of come-hither style. Lagerfeld, who famously said he's "down to earth, only not this earth," took it upon himself to re-imagine the way we treat grocery stores, and it seems to be working.
First came the over-the-top Fall/Winter 2014 fashion show at the Grand Palais in Paris, where the eccentric genius transformed the venue into a huge grocery store. Everything, in case you were wondering, was Chanel-branded. Crazy? Yup, but also totally original and dare-we-say fun . . . which usually doesn't go hand in hand with couture.
Now comes the fashion world's rippling reaction to the initial shock and bemusement. Kristen Stewart's brand-new fall ELLE US photo shoot takes place—you guessed it!—among vegetables and bleaches. Let us not forget that Stewart is currently the face of Chanel, so it's more-than-possible that Karl himself orchestrated the idea—or, even better? His odd message has worked itself into the best minds in the business.
One way or another, the colorful images are a far cry from the monochrome, rock-rebel settings Stewart is usually featured in. The clothes, of course, are impossibly chic: Bubble-gum suits flank iridescent sneakers and heavy necklaces, while neon tights playfully interact with the radishes and the peanut butter cups.
Not to diminish Lagerfeld's creativity, but this is not the first time the grocery store inspired fashion folk. Photographer Steven Klein staged a "desperate housewives" editorial in French Vogue as early as 2007, Vogue Mexico took model Constance Jablonski to the fruit section back in 2012, and fashion blogger and muse Natalie Joos used her local grocer as a backdrop for an impeccably styled photo shoot for her website Tales of Endearment.
It all (sort of) makes sense—everyone loves food and the humble supermarket provides a colorful, pop-art-ish background for the outspoken and larger-than-life fashion trends of the moment, be it 2007 or 2014.  Also, fashion editors apparently can't resist the approachable mix of "high" fashion and "low" surroundings, as previously proved by multiple flea market and shady-neighborhood-located editorials.
Even if we're not ready to substitute the shopping uniform of UGGs and hoodies for heels and chain-metal blouses any time soon, we more-than-dig the mash-up.