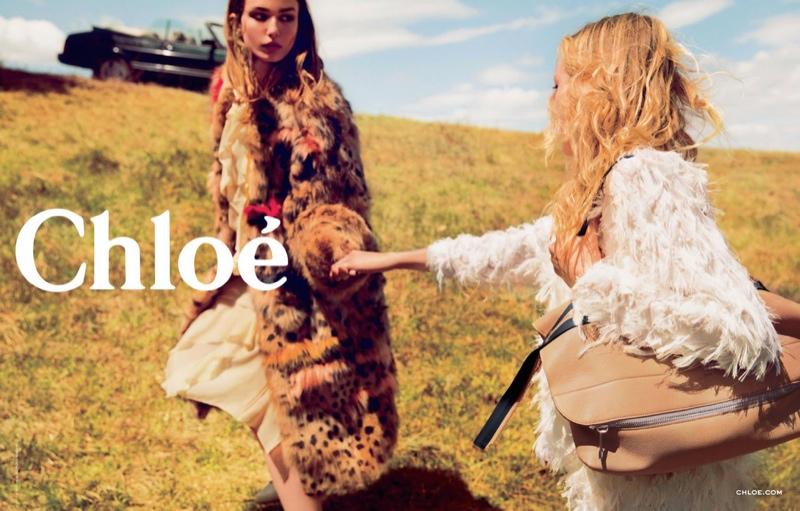 Credit: Facebook
The perfect road trip—think about these words for a second. What do they signify? Delicious snacks? Good music? Big fur coats? No?
Well, you might reconsider once you get familiar with Chloe's Fall/Winter 2014 campaign, featuring Sasha Pivovarova and Andrea Diaconu and shot by Inez van Lamsweerde and Vinoodh Matadin. Standing out in the sea of dark, ominous winter campaigns, this sunny story was cleverly staged by the ultra-feminine brand. First, there was a teaser: On August 1, a behind-the-scenes video offering a glimpse into the campaign's aesthetics was released.
Then came images with Pivovarva, experiencing yet another comeback into the limelight, and Diaconu, a newcomer with every intention to kick some fashionable butt.
Together, the two continue the brand's tradition of featuring two models or more—Chloe, you see, is all about female comrades hanging out together, preferably in breathtaking locations. Fittingly, the head designer since 2011 has been Clare Waight Keller, who stepped into the shoes of Hannah MacGibbon; both are strong, influential females in the world of fashion.
In the campaign, instead of occupying a luxurious ranch or living room, the ladies embark on a trip where everything but the vintage car—from the rings to the sunglasses—is from Chloe.
The brand's snakeskin bags are highlighted, of course, along with the signature delicate blouses and gorgeous shades. The surprising element is, perhaps, the coats; it looks a bit too warm to be bundled up. The models, however, don't seem to mind—they take turns at the wheel and help each other up a hill, while (probably) wearing actual heels. Though the outtakes gloss over the grittier realities of road tripping (where's the greasy hair and beef jerky?) it's hard not to be taken in by this interpretation of the road trip. Well done, Chloe!