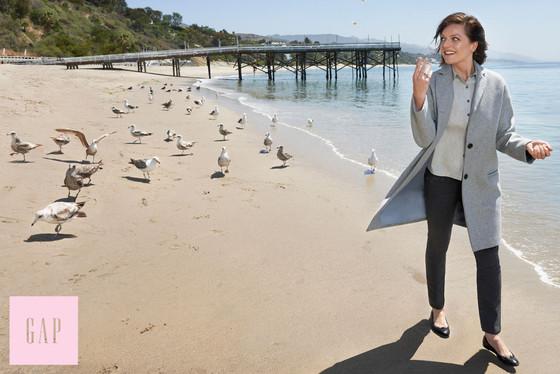 If you've ever watched Mad Men, you no doubt remember Peggy Olson. The secretary-turned-head copywriter has one of the most riveting plot arcs on television—ever—and the woman behind it, Elisabeth Moss, deserves every nomination she got.
When Moss finally picked up the coveted Golden Globe, for her lead role in the miniseries Top of the Lake of all things, the world discovered she's a poised, sexy funny lady who can deliver one hell of an acceptance speech. The actress has also shown her chops in movies like the recent The One I Love, a strange and moving film in which she plays an icy blond.
Meanwhile, the fashion world has largely ignored Moss and her reserved charm. Magazine covers have been scarce, designers don't exactly shower her with lavish dresses, and as for campaigns—well, a new one by Gap is the first one of significance.
Along with other semi-famous folks—Zosia Mamet, Jena Malone and Anjelica Huston—Moss was tapped this summer to appear in the brand's fall ads. That campaign has just been unveiled . . . and it is, in a word, underwhelming.
Gap's goal to promote a low-key "Dress Normal" ethos instead comes across as boring. The campaign lacks the tongue-in-cheek spirit behind normcore and its ugly mom jeans, and doesn't succeed at challenging the over-hyped, over-trendy world we live in, which seems to be its aim. While Mamet and Malone are young and green enough to be satisfied with such mediocrity, Moss—an amazing actress and a very foxy lady in general—deserves better. (So does Huston, actually.) Much better. She looks nothing more than bland in these ads. Where are her sass, attitude, charm? And what's with the strange fingers? Is she counting months until Mad Men's return?
Why certain celebs are chosen to advertise clothes is a mystery, but surely Moss agreed simply because no one else (before Gap) ever asked her. Peggy would probably condemn such an amateur move, but we forgive Moss (and Gap—boring clothes do deserve to exist, after all).
Let's just hope that with the amount of new films Moss has coming out in 2015, her next campaign will be for something that suits her better. Because this is a woman who is anything but boring.