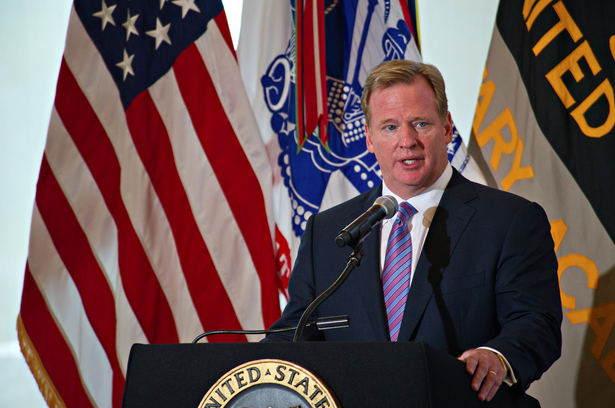 Roger Goodell tells it like it is. Courtesy of Wikimedia
"I didn't get it right."
These were the glorious words of NFL Commissioner Roger Goodell to NFL team owners in a letter sent out last Thursday announcing the NFL's new, stricter policies concerning players' domestic violence infractions. Specifically, his admission referred, of course, to his recent decision to suspend running back Ray Rice for a mere two games after the athlete knocked his then-fiance out cold (when, we'll remind you, players that get busted with weed are kicked out for the full season).
Goodell also said as a part of his announcement: 
"At times . . . we fall short of our goals. We clearly did so in response to a recent incident of domestic violence. . . . My disciplinary decision led the public to question our sincerity, our commitment, and whether we understood the toll that domestic violence inflicts on so many families. I take responsibility both for the decision and for ensuring that our actions in the future properly reflect our values."
(Clearly he must have read our piece where we described this situation and called bullshit!)
We, of course, jest; Goodell's decision to enforce stricter penalties for domestic violence is a response both to the the massive backlash from the public, the tireless efforts of activists, as well as, according to an ESPN source, the response of people close to the commissioner. 
So what are these new harsher penalties? So glad you asked.
Effective immediately, the NFL's personal conduct policy (applicable to players, coaches, and staff) requires a six-game suspension, sans pay, for a first time domestic violence offense—and a lifetime ban from the league for a second offense (although a two-time offender may petition for reinstatement after a year). The intensity of the penalty for first-time offenses could even be increased in specific instances—say, when the player in question had been involved in a domestic violence incident prior to his NFL days, or uses a weapon in an attack, or harms a woman who is pregnant.
Interestingly, for a player's actions to be counted as an "offense" and a violation of the NFL's personal conduct policy, he would not necessarily need to be convicted in a court of law. Each incident, apparently, will be judged on its own merits. (We're hoping that in an instance like Ray Rice's—where he was caught on film dragging his wife's unconscious body into an elevator—such footage would play a role in said judging).
Alas, no time was wasted in finding an opportunity to test out these new policies. Early Sunday morning, San Francisco 49er Ray McDonald was arrested on domestic violence charges—after his pregnant fiance showed police bruising on her arms and neck. McDonald, 29, was released after posting $25,000 in bail later on Sunday. 
Although he declined to comment on the incident specifically with television news and reporters, he did say: 
"I can't say too much, not right now, but the truth will come out. Everybody knows the kind of person that I am. I'm a good-hearted person."
As for Ray Rice, neither he nor his team, the Baltimore Ravens, commented on the new policy. They did, however, announce a three-year partnership with House of Ruth, an organization devoted to helping victims of domestic abuse. As a part of the agreement, the team will also donate a hefty $600,000, receive training for staff and players, and do promotional work on behalf of the center.
All in all, we have to applaud the steps forward, long overdue as they are. Rumor has it all 32 team owners are on board with the new stricter penalties as well, indicating newfound progression, and a dedication to righting a historically listing ship.  
But as for Goodell's statement that:
"Our personal conduct policy has long made clear that domestic violence and sexual assault are unacceptable. We clearly must do a better job of addressing these incidents in the NFL. And we will."
Well, only time will tell.