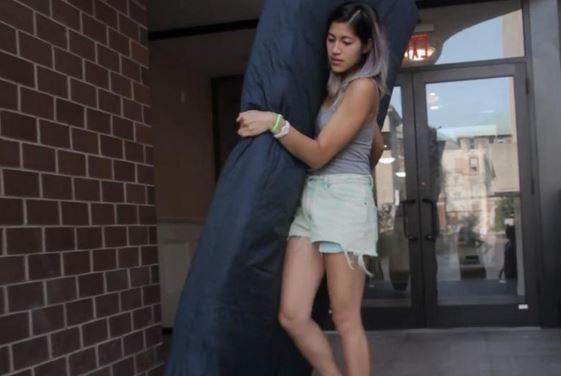 Credit: YouTube
Sexual assault is often the elephant in the room—a thing that looms large but no one wants to address. Now, one survivor is giving the elephant a physical form impossible to ignore: her mattress. And, as with the emotional trauma she's suffered, she's bringing it with her everywhere. 
In a tale that feels crushingly commonplace, Emma Sulkowicz, now a senior at Columbia University, says she was raped on her own mattress the first day of her sophomore year. When her case made it to a university hearing seven months after the assault, she had to describe for administrators how she had been hit across the face, choked, pinned down. She even had to draw a diagram to show how anal rape worked.
She left the meeting, understandably, feeling physically ill—as we nearly are just reading about the ordeal. 
And though two other women also came forward claiming to have been assaulted by the same student, the alleged attacker was found not responsible—and remains at the school. 
On her experiences with the disciplinary hearing, Sulkowicz said:
I was so naive that I guess I thought they would just believe me because I was telling the truth. I didn't expect the school was going to try to not take my side.
The school not siding with her, leaving her on campus with her assailant, has given her more to bear: 
Rape can happen anywhere. For me, I was raped in my own dorm bed. Since then, it has basically become fraught for me, and I feel like I've carried the weight of what happened there with me everywhere since then.
Enter: her senior thesis project "Carry That Weight," wherein Sulkowicz carries her mattress, as with her emotional trauma, everywhere she goes. Not only does it protest the injustice of the handling of her rape case, it forces her college community to confront the existence of sexual assault:
The past year or so of my life has been really marked by telling people what happened in that most intimate private space and bringing it out into the light. So I think the act of carrying something that is normally found in our bedroom out into the light is supposed to mirror the way I've talked to the media and talked to different news channels, etc.
Poignantly, as a part of the project, Sulkowicz is not allowed to ask for help in carrying the mattress around—though others are allowed to offer their assistance. She says she'll carry the mattress as long as her alleged rapist remains on campus. So her project may end in a day—or last the entire year. 
As she says:
A mattress is the perfect size for me to just be able to carry it—enough for me to continue with my day but also heavy enough that I have to continue to really struggle with it.
And so the entire Columbia community will be made to grapple with at least the visual representation of sexual assault—and one of the many victims who struggle under its weight.