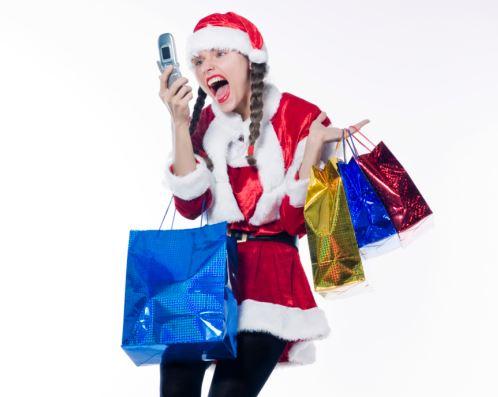 Shopping: not for the faint of heart (Credit: ThinkStock)
I need navy blue high heels. I need them to go with an orange floaty dress I'm wearing to a wedding in five days. I've got it in my head that nothing else will do, and of course none of the heels in my closet are remotely suitable.
Unfortunately, this has happened to me before—like the time when I needed a very specific pair of black strappy high heels for a bridesmaid dress. That time, I ran around the mall from shop to shop trying to find them, wasting hours of time I didn't have to spare. This time, I've been a bit cleverer; I've input exactly what I want into an app on my phone, and am swiping through my options during my commute home on the train.
Three days later, a pair of navy blue high heels with a navy and white polka dot bow arrive on my doorstep. The perfect size and color and I didn't even step foot inside a shop or visit a store website. The fashion app I used, ShopStyle, is just one of many available to make shopping easier and less time-sucking.
So if you're not into browsing (like me), don't like crowds (also like me), and just generally find the shopping process to be daunting, overwhelming and a basic nightmare (me!), consider these fashion apps instead. Because there's no better feeling in the world than finding the perfect pair of heels without braving mega-mall madness amid throngs of miserable shoppers.
Suckers.

This is a classic, and the first fashion app I ever downloaded. It allows you to search millions of products from around the world, sorting by specifics such as color, brand and price. The downside of the app is it's a bit slow, and sometimes returns products unrelated to your search. But for the most part it does the trick. I like to use it to see what it recommends as knock-off alternatives to high-end designs.
Just this month, Zalando teamed up with Cortexica to introduce snazzy image recognition software. The way it works is simple: Take a photo of a clothing item you like on your phone, and the app will search for products with similar colors and patterns in Zalando's online shop. So if you've ever seen someone wearing something you like, but were too embarrassed to ask them where they bought it, you can now take a picture of it to find something similar. The app is currently only available in Germany, but is expected to launch more widely later in the year. "We want to see how our customers use the new feature: Will it be for an impulse buy or just for inspiration?" Carolin Kühnel at Zalando told the Wall Street Journal.

This app has been designed to learn how you shop, then recommend products you may like from the 200 retailers it's partnered with. Once you download the app, your profile develops by swipes: Swipe right if you like something you see or left if you don't. This information is then used to develop a "style-graph" for your purchasing preferences.
"Using the same swipe actions as Tinder, we build a profile of the user that lets us tailor a feed of clothes to their tastes and make shopping from a mobile super easy, and really quick," said Cally Russell, CEO of Mallzee. The app has only launched in the UK and Ireland as of yet, and brands seem to be focused in these areas. But look for it to move into new markets soon.
If you can never figure out what to buy for the man in your life, try using this app. Jack Threads offers a "curated selection" of men's clothing. So if you're after a sweater for a birthday gift or some funky bar accessories, you can search for what they recommend. If anything it takes the guesswork out of shopping for men, something I personally definitely need help with.
Still have to brave the mall (shudder)? Then at least make the experience a little less agonizing by downloading the Westfield app. It has maps, tells you where the sales are, and even helps you locate your car in the parking lot. My favorite feature, though, is that you can book a table at a mall restaurant. Perhaps for food, or in my case, for a stiff drink. Because, sometimes, that's the only way to rid yourself of the shopping blues.