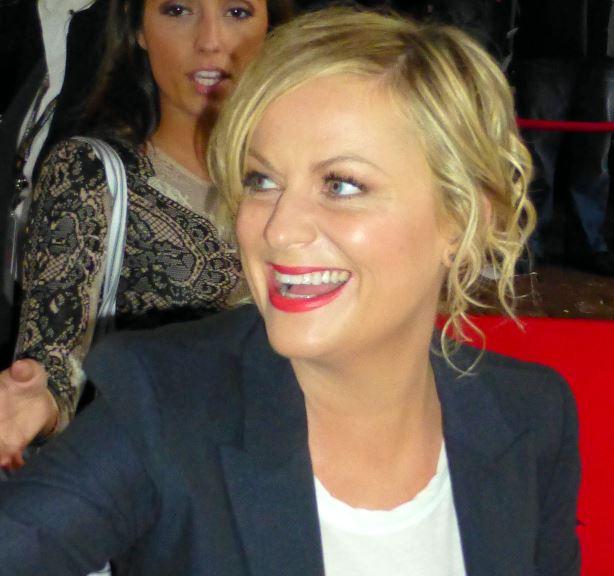 Credit: Wikimedia Commons
Today is a very important day, marking the birth of one of our most favorite humans: Amy Poehler!
Why is she one of our favorite humans? Where oh where to start! For one, she's a key element of the masterpiece that is Parks and Recreation—which is only the most recent iteration of her long history of kicking comedic ass and taking names. 
Even when she was brand-new to Saturday Night Live, she didn't hesitate for a second to make her own mark. Per Tina Fey's anecdote in Bossypants, when Amy was an SNL newbie and engaging in some loud vulgarity, fellow star Jimmy Fallon joked that she should cut it out: "It's not cute! I don't like it!" According to Fey, Poehler "went black in the eyes for a second, and wheeled around on him," letting him know: "I don't fucking care if you like it." 
Am I the only one that wants a t-shirt with this badass phrase?
Speaking of badass, there was also dearest Poehler's recent zing as a guest on The Approval Matrix, the Sundance Network's new panel show. During her interview, she was asked about the modern man and all the various pressures he feels to be at once nerdy but also sexy, etc. The host, Neal Brennan, confessed these pressures to Poehler saying, "Being cool is, like, passé. And now you have to be awkward and adorkable."
The blend of her incredulous expression and perfect retort is too good to miss, though here's the one-sentence highlight:
"Well, this feeling that you're having right now—which is like, 'I'm supposed to be all things'—is a feeling that women have every day and have their whole lives. So you're just starting to experience it now." 
Goddamn we hope you have an excellent day, Ms. Poehler. And for the rest of us mere mortals? Let's celebrate by watching her full takedown . . . again and again: