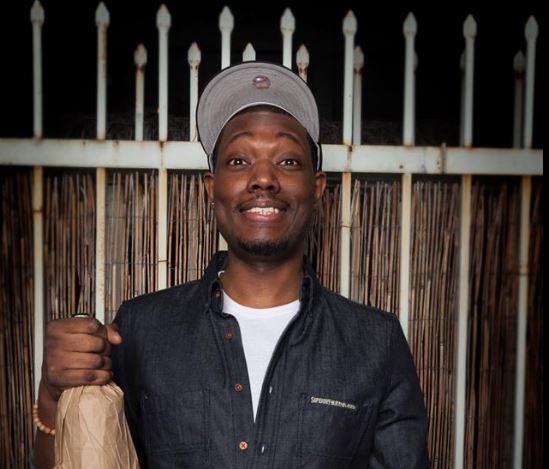 Credit: Facebook
Well this is just . . . ew. Remember that street harassment video we, and the rest of the world, posted this week?
SNL's newest Weekend Update correspondent (who I have to say has been crushing it since he was called to the desk a few weekends ago) provoked the righteous ire of thousands of fans yesterday when he posted this "joke" on his Facebook account: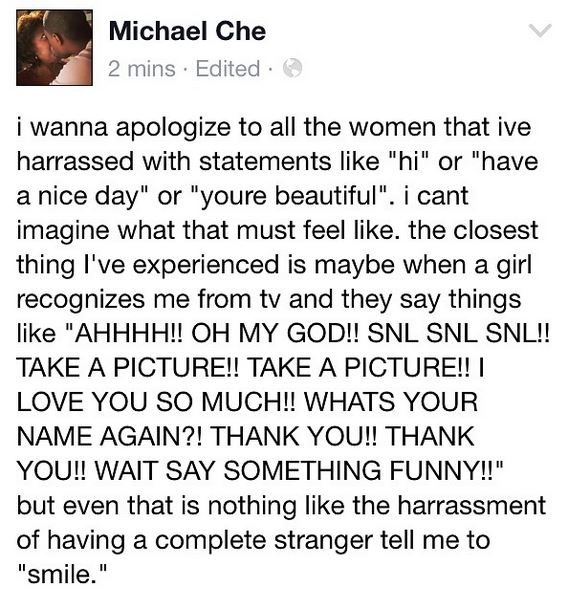 I hope he's kidding, you think to yourself. It's just a joke that fell unfortunately flat, right?
I wish. This then showed up on Twitter:
i think some of u are misunderstanding that post. im simply just making fun of something that is important to a lot of people.

— Michael Che (@CheThinks) October 29, 2014
Then, later, these words appeared on Instagram:
"i wanna apologize for my last apology. sometimes i forget that i belong to all of you now, and that any thought i have should be filtered through you, and receive ur approval. its tough, because im used to taking risks and finding humor in places of discomfort. but thats all over, cause i have a job on tv. and if i say the wrong thing youll see to it that its taken away. so the next time i have a silly thought, ill giggle to myself, keep my mouth shut, & post a picture with my arm around a more famous person i met somewhere."
The video has already come under scrutiny from critics for perceived latent racism, and comments sections are flooded with cries of "Relax, they were just trying to compliment you!" While I expected a surge of dismissive reactions from much of YouTube's viewing public, I didn't expect the best thing to happen to Update to be among their ranks, and what's more, for him to fiercely defend his cluelessness. Even if he was trying to joke in the first place—something I could forgive him for in due time—his smart-ass, self-important non-apology is really revolting and very telling of his true character.
Goddammit, Michael Che, I liked you! A lot! Guess it's time to add Che to the Big Fat Feminist Letdown list. Line's over there, right next to Seth MacFarlane.
To wash the taste of that out of your mouth, here's another video that's been making the rounds: The Daily Show's hysterical (but also way-too-true) send-up of street harassment.