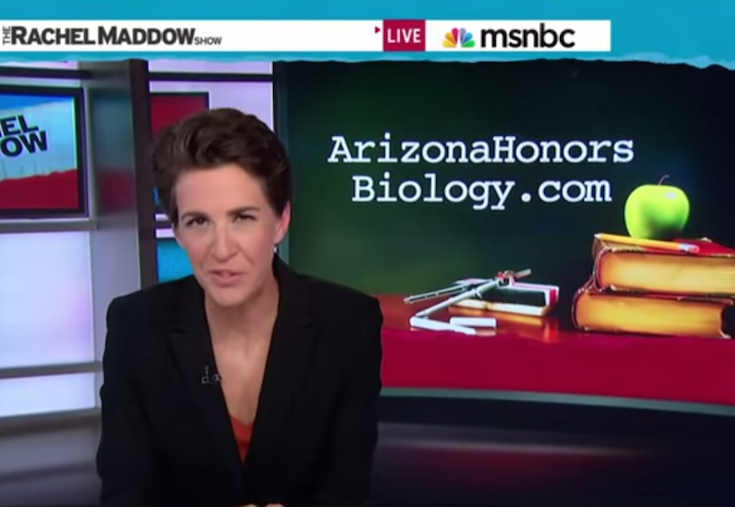 At this rate, I feel fortunate that condoms are legal. As you've likely heard, The Gilbert Public Schools Governing Board in Arizona decided to rip two pages from an honors biology textbook that discussed contraception, fertilization and abortion. The school leaders took issue with the part on abortion—even though the text merely laid out that it was a medical procedure that, well, exists. Rachel Maddow, in retaliation, took matters into her own hands. Not only did she find the "objectionable" pages and discuss the matter on her show, but Maddow (or one of her minions interns) scanned the missing pages onto a website (arizonahonorsbiology.com), which the show purchase so theses pages would be up "in perpetuity." Both the honors and AP text book pages are present, and ready for the eager eyes of tenth graders everywhere. 

As Maddow emphasized on her show, the text takes a neutral stance on abortion. It doesn't recommend it, nor does it advise readers on where to obtain one. It's dry—the book defines it, and explains how it works. There aren't even any cool metaphors. It's science. 

On the bright side, Maddow also added that new board members—though conservative—were phasing out the reactionary majority. The future may allow for more, ahem, truth. It's frightening to think that schools would have such power. Abortions have happened for, literally, thousands of years. Plus, hating on them is fairly recent. It wasn't until the 1800s that several factors demanded the criminalization of this practice. Namely? Business. Doctors wanted to push out midwives. Now, abortion it's one of the most heated topics in our society. And while it's understandable that many don't like talking about it, this discomfort is not a reason to deny its existence.

There you go, Arizona high school students. I hope you learned something today—although the school board would prefer you didn't.