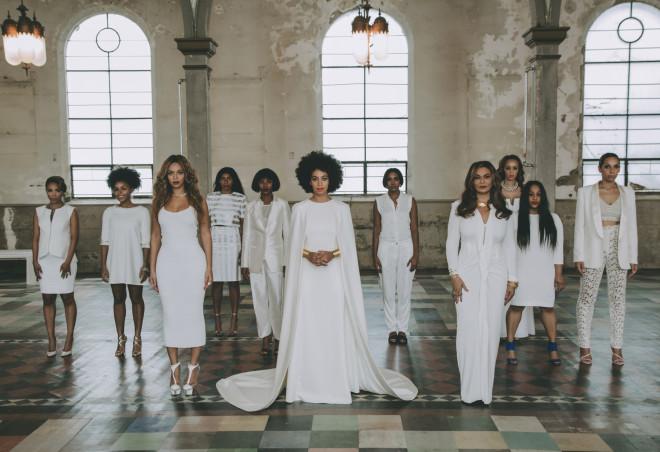 Solange Knowles is a curious, touchy-feely phenomena many prefer to avoid. If she stood alone sans Queen Bey, I think everyone from the media to us lowly pop-culture loving minions would have showered Solange with endless adoration. Said adoration still happens on occasion, but not to the extent she deserves—because, alas, she's forever obscured and refracted in her sister's huge shadow.
Solange and Beyonce (who's been arguably running the whole damn world for the last few years) are relatively day and night—they do not nicely fit the mold Hollywood typically reserves for sister acts. While Beyonce is clearly the mega-star of the family, Solange packs enough punch to escape the 'supportive sister' second chair—she holds her own, providing a more demure, minx-y, and overall mysterious alternative to Beyonce's over-spilling fame. Her music is quirky and innovative where Beyonce's is slick, skillful, produced to pop perfection. Solange's stance and dance moves are refreshingly awkward, whereas her mega-polished sister's are often too perfect to emulate.
And finally? Solange always projects a very strong sense of individual style—something, no matter how hard you try, simply can't be said about Beyonce. Oh, and that ugly, confusing elevator fight? Beyonce will ever grace us with such an outburst of raw humanity.
What Beyonce struggles to achieve with a no-filter frame in a saccharine, HBO-produced documentary, Solange just. does. Her outsider-ish behavior, her proud single motherhood—and this week her uber-stylish wedding to a heavily bearded man almost 30 years her senior—all prove Solange has the elusive cool factor most mortals have to go without. The ceremony location, New Orleans, couldn't be more on-trend, as the city spins faster and faster towards becoming the new Austin.
And the guests—Kelela, Janelle Monae, and others, all in white—couldn't be more talked-about. The bride's outfits—a sexy jumpsuit and a maxi dress featuring a cape (which I think we can all agree is pretty damn hard to pull off), tap into just the right amount of cool-girl trends. Even the environmentally friendly bicycle arrival was the perfect example of leading by example.
Compared to the lavish affairs Hollywood royalty likes to turn their weddings into, and even when pitted against the rugged boho-chic country wedding trend mastered by Lauren Conrad and Kate Bosworth, this is still the wedding of the year. Discrete, on-point and irresistibly intimate, it's the perfect metaphor for Solange's persistent charm.