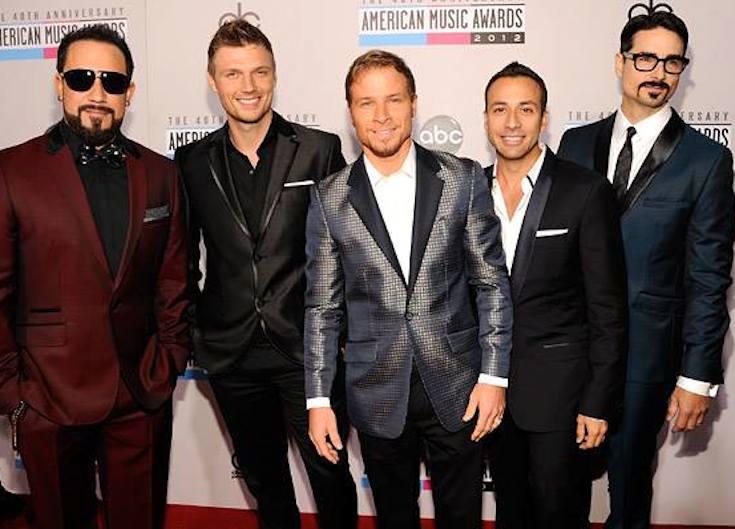 Backstreet MEN (Credit: Facebook)
Ladies, a beacon of hope has illuminated our desolate horizon: The Backstreet Boys are releasing a documentary on January 30! The film is titled Backstreet Boys: Show 'Em What You're Made Of and chronicles the lives of BSB members (Howie Dorough, Kevin Richardson, A.J. McLean, Nick Carter and Brian Littrell—which is your chosen one?) over a two-year span. The director, Stephen Kijak, is no stranger to documentaries featuring larger than life (GET IT?) stars: Previously, he directed the Rolling Stones documentary Stones in Exile.
So we're expecting great things, and will be very, very disappointed if Stephen doesn't deliver. (Friendly reminder that hell hath no fury like BSB fans scorned.)

In the midst of all the excitement, Brian released a statement that raised a deep and thought-provoking question: "From 1992 to 2002, we were the biggest band in the world . . . Then it just stopped. And what do you do when you're a full grown man in a boy band?"

Yes, what does one do? As a rabid BSB fan (if you think *NSYNC was better, you can stop reading my articles. Forever), I recall the band's glorious peak and tragic plummet. Later in their career, I remember feeling like some of their songs got "boring" (looking at you, "The Answer to Our Life"). Were the guys simply maturing? Or was their audience? Either way, a growing disconnect ended the band's popularity.
Luckily, the boys' influence has lived on in the music world. So instead of lamenting the demise of BSB, let's celebrate their best karaoke fever, solo car-singing jams . . . and the later songs they clearly inspired.
1. Quit Playing Games (With My Heart) 
This gem of a misery song hails from the boys' self-titled debut album, circa 1996. The feeling described is all-to-familiar: "Baby" is jerking around someone's emotions! Will this roller-coaster called love ever end, boys? Will it? 

Choice Lyric: "I live my life the way, to keep you coming back to me." 
Later Song It Maybe Totally Inspired: "Shut Up And Let Me Go" by The Ting Tings
2. It's Gotta Be You 
If we ever needed proof that men are the ones who really lose their shit during relationships, this is that evidence. The proverbial "you" has the boys feeling all the feels . . . but does she (or he?) reciprocate the emotions? We may never know.

Choice Lyric: "Now I know why I was born. You feel my feelings one by one." (Not creepy at all . . . )
Later Song It Maybe Totally Inspired:  "It's Gotta Be You" (not a cover) by BSB knockoff One Direction
3. Hey Mr. DJ (Keep Playin' This Song)
​
This song feels adorably quaint, because it speaks to that distant time in the past when a DJ was a person who played music at a party. Or on a radio. But there's more to this tune than a lesson in history: It also tells a story, if not a terribly complex one.
Here's the gist: Man sees woman at party. Man likes woman. They dance. Dance good. But will she leave when the song ends? Not if BSB can help it!
Let's keep playing this song, DJ.
Choice Lyric: "There was some mysterious force leading me here to you." (What was the force? What was it? Such a mystery!)
Later Song It Maybe Totally Inspired: "Play" by Jennifer Lopez
4. Shape of My Heart
​
In this narratively rich tune, the singer has been a jerk to yet another "baby," and wishes to make things right. The majority of the song is spent lamenting the error of his ways. He was just "tying to be someone" you guys!
Though the album on which this song appeared, Black & Blue, didn't fare well, "Shape of My Heart" enjoyed 20 weeks on the charts and peaked at #9. As a woman, I'd roll my eyes if a man attempted to sway me with the words in this song. But damn if I don't enjoy listening to them.
Choice Lyric: "Sadness is beautiful loneliness that's tragical." (Mind. blown.)
Later Song That Sounds Eerily Close in Subject Matter: "Sorry for 2004" by Ruben Studdard
5. Show Me the Meaning of Being Lonely
​
Really, the lyrics of this jam read like a Nicholas Sparks fan fiction poem. Breakups suck, we won't deny that, but there's a point where pride takes over and we just sob uncontrollably in the shower (or so I've heard).

Choice Lyric: "Life goes on, as it never ends." (Except when it does end)
Later Song It Maybe Totally Inspired: "I Don't Want It" by Ween