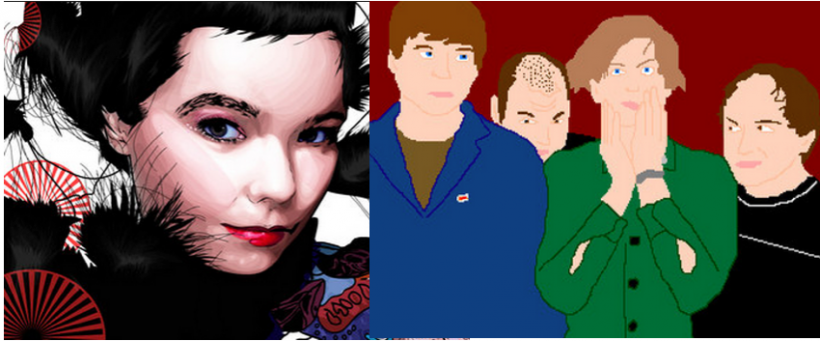 There are myriad examples of women writing the music and the message and men performing it.
In music—pop or otherwise—women are stereotypically the voice; guys are stereotypically the Svengalis, quietly puppeteering the entire thing. Women like Donna Summer or Dionne Warwick have the standard narrative flanking them in the shadows; namely male songwriters and producers like Giorgio Morodor or Burt Bacharach. In fact, this vision—especially of pop creation—is so entrenched that the press often assumes there's some man behind the scenes pulling strings even for women who write and produce their own material, like Bjórk or MIA .
But in fact, despite the seeming ubiquity of these assumptions, there are myriad examples of women writing the music and the message and men performing it. Below are 10 examples of songs by women covered by men, reminding us of the lengthy, rich—but often obscured—history of female songwriters.
Led Zeppelin, "When the Levee Breaks"
Zeppelin was notorious for stealing songs without credit. When "Levee" appeared on Led Zeppelin IV, though, the band did for once accurately attribute the lyrics to blues performer Memphis Minnie, who wrote the song with her then-husband Kansas Joe McCoy about the 1927 Great Mississippi Flood.
Zoot Sims, "Some Other Spring"
Irene Kitchings was briefly married to pianist Teddy Wilson, but she was also a composer in her own right. She wrote "Some Other Spring" for her friend Billie Holiday, with lyrics by Arthur Herzog Jr. The tune has since become a standard for jazz instrumentalists, as in Zoot Sims' sensually wistful tenor sax performance.
Johnny Cash, "That's Enough"
The great gospel singer Dorothy Love Coates was also a prolific songwriter—and a strong supporter of the civil rights movement. "That's Enough" was surely meant in part as a response to racial injustice—she knew what she was saying when she referred to God as "The Great Emancipator." Johnny Cash's pared down version transforms racial hardships into personal ones—and perhaps classist ones as well.
Ray Charles, "Let's Go Get Stoned"
This Ray Charles hit was written by the prolific husband/wife team of Nicholas Ashford and Valerie Simpson. Besides penning a couple of songs for Charles, the two wrote numerous Motown hits, most notably for Marvin Gaye and Tammi Terrell, before going on to perform on their own as Ashford & Simpson. Ray Charles' performance here drips with melancholy virility, none the less so because the song was created in part by a woman.
Merle Haggard, "In The Good Old Days (When Times Were Bad)"
Dolly Parton is generally thought of as a singer and performer, but she is also an important songwriter. "I Will Always Love You" was a massive hit for Whitney Houston, and many of her other songs have also been covered. One of the best examples is Merle Haggard's "In the Good Old Days." Haggard is often more straightforwardly nostalgic in his own writing, but Parton gives him a chance to try on a more nuanced version, with the hip Bakersfield sound rolling over the bad memories—which were of course Parton's, but serve as Haggard's too.
Boom Operators, "Nutbush City Limits"
"Nutbush City Limits" is one of the few songs Tina Turner wrote. Like "Good Old Days," "Nutbush" is a tribute to the songwriter's rural roots. Where Merle Haggard used Parton's lyrics as a way to find common ground with the original performer, though, Boom Operators love the song for their distance from it, as they turn childhood memories into robotic goof. Though, in truth, that's not so different from what Turner herself did with the song in her glammed up performances.
James Taylor, "You've Got a Friend"
Carole King and former husband Gary Goffin wrote numerous hits for girl group and soul acts in the '60s. By the early '70s, though, she'd moved on to wiggy hippie soft-rock. Her own version of this tune was eclipsed by her friend James Taylor's mammoth hit; a collaborative, easy-listening paean to the easy beauties of collaboration. (Also check out the Vincent Price version, with muppets.)
Sugarhill Gang, "Rapper's Delight"
The Sugarhill Gang was a studio creation. Record exec Sylvia Robinson was determined to produce a rap record but couldn't find rap artists interested in recording in 1979. Robinson finally corralled Michal Wright, Guy O'Brien, and Henry Jackson, and put their rapping to a riff copped from Chic. Like many a male producer before her, Robinson billed herself as writer, though the actual credits are murky—Grandmaster Caz is now generally agreed to have written many of the lyrics, though he was not mentioned on the recording.
Maxwell, "This Woman's Work"
Big Boi and André adore Kate Bush, but Outkast hasn't ever covered her as far as I know. So instead, here's Maxwell's neo-soul performance of Bush's song, all falsetto swoops and R&B orchestration. Though it was recorded 15 years back, it sounds remarkably like the hippest new R&B from FKA Twigs and SZA—a reminder that R&B performers have been listening to alt-rock, and vice versa, for a good long time.
Death Cab for Cutie, "All Is Full of Love"
Björk has in interviews mentioned how irritated she gets when journalists assume that her producers, or male collaborators, are responsible for her music. It seems fitting to end, then, with this Björk cover by Death Cab for Cutie. Male indie geniuses pay tribute to a female indie genius by making her song theirs, or making themselves hers, depending on how you look at it.