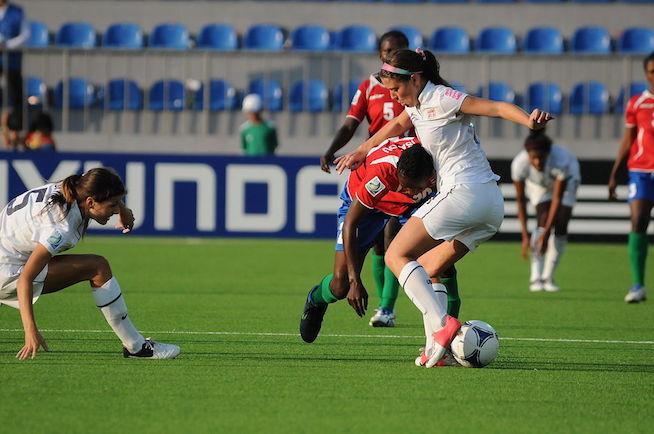 Creative Commons: Women's World Cup 2012
Are you one of the estimated one billion people tuning into the Women's World Cup this year? If you're a feminist, you should be.
The U.S. Women's National Team (USWNT) is reason enough to watch - they're a favorite to win, and they play their first game tonight against Australia. But to get to the top of the world rankings (second only to Germany), the women of the USWNT have overcome barriers, such as shockingly low pay in the National Women's Soccer League (which drove at least one player to 'retire' at the age of 22), and rampant sexism from the very people who control the sport.
You may have heard recently of FIFA officials charged for bribery and other wrongdoing, or the subsequent resignation of FIFA head Sepp Blatter. But corruption and bribery aren't the only reasons FIFA officials have made headlines over the years. In one stark example of FIFA's headline-worthy sexism (among many), Blatter himself suggested women's soccer would be more popular if players "play in more feminine clothes" and wear "tighter shorts."
USWNT players have not shied away from publicly taking a stand against the sexism they face. This past fall, several USWNT players took the lead in a lawsuit against FIFA for gender discrimination because the 2015 World Cup is being played on artificial turf, which changes the pace of play, and is more dangerous for players.
All the more reason to tune in to the Women's World Cup, which began this past Saturday, or even make the trip to Canada to see a game (which I'll be doing in two weeks!). There's more opportunity to watch than ever, with the tournament expanded to 24 teams from 16 in 2011.
When the USWNT takes the field tonight, I'll be cheering them on, just as I've been cheering on the players' fight for gender equality — on and off the field. And you should, too.