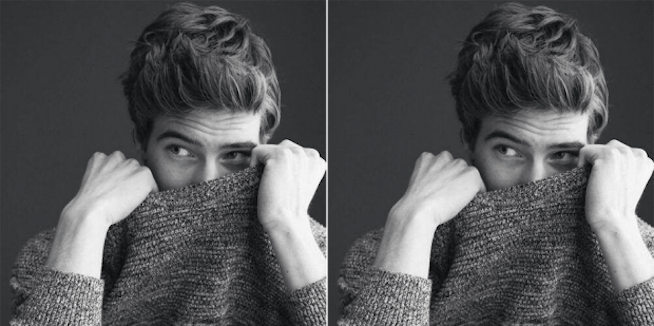 Men aren't as averse to style and beauty as you might think!
What other secret beauty desires could they be hiding?
People often say that "the way to a man's heart" is through his stomach, but as it turns out … it may actually be through … his feet!
At least, that's what the men in our recent "Share the Love" survey indicated to us.
We had a fantastic time teaming up with our friends at essie to conduct a reader survey about the power and appeal of manicures and pedicures. (Summer is here after all, time to flash those fancy toes.)
But, imagine our surprise when of our 1,792 respondents, 563 of them were men!
And, wow, did those fellas share a lot of truly unexpected info about how dudes feel about having their digits pampered and tended to. Here's what we found out:  
Don't Let Men Fool You — They LOVE Getting Manicures and Pedicures
Ladies, it's time to ditch the old stereotype that men don't care about being pampered. It's entirely untrue.
When asked whether they've ever gone to a nail salon with their partner, 77 percent of men said "yes." And of those who answering "no" — when asked if they'd be interested in going to a nail salon with their partner, an overwhelming 87 percent said they would! 
Wait, what?
Although, perhaps we shouldn't be so surprised, apparently pounding the pavement and walking that pathway to success each day is leaving your man's feet weary and in need of a little TLC. When asked to identify how they'd most like their significant other to touch them, 73 percent of men said they prefer "a back or foot massage." 
Why A Man-icure Makes Your Man So Happy
It turns out, men … human beings that they are … seek out a mani-pedi experience for many of the same reason women do. 81 percent of men said they go to the nail salon with their significant other so they both got to "relax and feel pampered" together. (Couples who pamper together, stay together! True story.)
And while all that buffing and shining help women feel more confident and pretty, 80 percent of men say that after a manicure and/or pedicure, they feel "polished."
How To Get YOUR Guy to the Nail Salon 
Love the idea of some quality spa time with your man, but think there is no way your guy would ever actually go?
Well, it turns out, the secret ingredient to successfully booking that his and hers mani-pedi combo is YOU. According to our survey respondents, men already in (or just beginning) a relationship are the most likely to pop on by the local nail salon. Yep, they're totally using us for an excuse to go, but we're OK with that.
When asked what motivates a mani-pedi indulgence, 72 percent of the men claim they're celebrating an anniversary! (Awwww.)
But don't let that discourage you if you just started seeing Mr. Handsome Hands and Feet. 76 percent of men said they're also likely to visit the salon in the "early phases" of a new relationship (when they're putting their best foot forward, perhaps?). Sounds like a perfectly fabulous third date option to us, wouldn't you agree?
And, whether you go dutch or he opts to treat, this is money well spent apparently because 95 percent of male and female survey respondents agree that spending time and/or money on their own appearance is "somewhat" or "very important."
Your Man is in Great Company
Just remember, once you get your man there, don't expect him to go much further than indulging in the grooming and massage portion of the mani-pedi treatment. 82 percent of men say they prefer to keep their nails "au natural — trimmed and unpolished."
But … for those who did respond about a preferred color — it seems men overwhelming prefer shades of pink, orange, or red. (Go figure!) One male respondent even shared: "I often get compliments on my pink toes at the salon. Not bad for a straight, married guy."
We say, "Don't be shy with the color, guys." If manly men like Snoop Dogg, Kobe Bryant, Johnny Depp, and David Beckham unabashedly rock color on their nails, we're entirely fine with our guy brandishing some bold bad boy nails as well. Thankfully essie has a few colors for them to choose from!
Thankfully essie has man-e-cure which is a mattifying-nail perfecting treatment for all males nail types, whether they choose to wear nail polish color of not.
Visit StyleSeat.com to choose your preferred salon and stylist for your next essie manicure and pedicure! Shop for your favorite essie products from your favorite salon! And while you're at it, check out our super-shareable infographic and see Why You Need To Drop Everything And Get Your Nails Done, Stat.
This article originally appeared at Your Tango.
Also from Your Tango:
How To Find Love (And Know It's For REAL This Time)
I Went Undercover To See If A Girl Could Get Happy Ending Massage