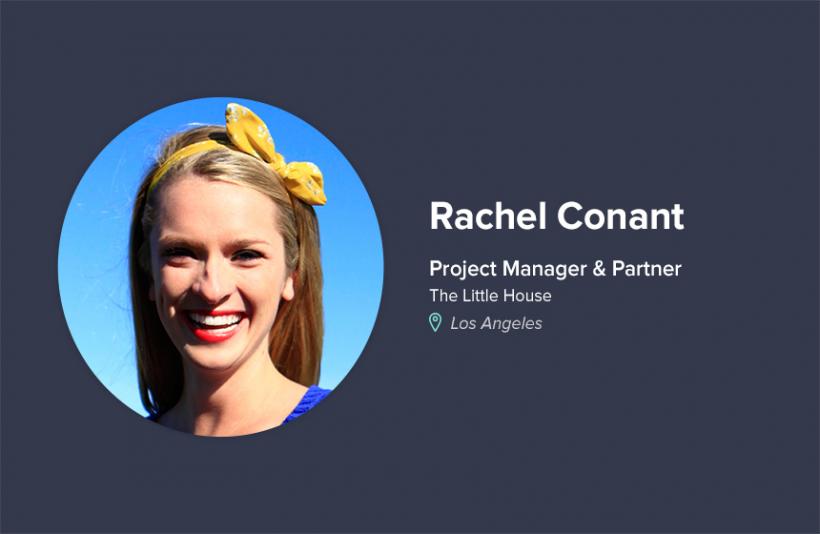 Glassbreakers.co is a safe, supportive and dynamic online community for professional women. Its mission is to empower women to break the glass ceiling, together. A Glassbreaker is anyone who believes in the social, political and economical equality of the sexes. This interview originally appeared on their site in June. 
What Is Your Name?
Rachel Conant.
What do you do?
I am currently the Project Manager and Partner on a project called The Little House. The Little House is an interactive, multi-sensory experience where you can climb through a wormhole into a circular room covered in mirrors, in which you will be able to experience binaural beats surrounding a 2-3 ft. anatomical sculpture of a human heart. It will be premiering in Los Angeles in early August then traveling to Black Rock City, New York, Chicago, Miami, Marfa and then on to its European Tour in the Summer of 2016.
Why do you love your job?
My partner, Moral Turgeman and I have been able to collaborate creatively on this project to create something really unique and special. The amount of support we have received from friends, family and even from total strangers has been overwhelming and a constant source of motivation and inspiration.
What is your proudest career moment?
My proudest career moment will come upon completion of this project. I cannot wait to stand on the front porch of The Little House and know that I built something so beautiful and impactful on such a large scale.
Have you ever quit or been fired from a job before? Tell us what happened.
I have held several different positions throughout the art world. In auction houses, galleries, in artist representation and as a studio assistant to a well known street artist. In each case I learned a different skill set but often there was little room for growth within the various companies themselves. Instead of remaining in a role, which saw little room for upward mobility, I chose to pivot and explore another section of the art world.
What advice do you have for other women who want to be in your role in two years?
Dream big! Don't let anyone or anything discourage you from following your heart.
Outside of your day job, what else are you passionate about?
I am passionate about art in all forms. Whether that is creating my own paintings or installations or going to various art openings and museum exhibitions or just by walking and observing new public art pieces and street art.
Have you had any inspiring mentorship moments in your career?
My grandmother, Doris Conant, first introduced me to art at a young age. I really believe that her eye and creative spirit have helped guide me navigate my career in the art world and inspired me to stay creative as an artist myself.
What song pumps you up in the morning before a big day?
"Ain't Nobody" by  Chaka Khan, "Lovely Day" by Bill Withers, and "Rhiannon" by Fleetwood Mac
What other women in your industry do you admire?
Yayoi Kusama, Georgia O'Keefe, Frida Kahlo, Cindy Sherman, Marina Abramović Tracey Emin, Marian Goodman, Yoko Ono, Bambi, Swoon, Olek and Maya Hayuk.
What books, blogs, podcasts, networking groups or other resources do you recommend for Glassbreakers interested in your field?
Go to museums and art gallery openings and meet as many women in the art world as you can. You never know when you might make an important connection, so be sure to keep putting yourself out there!
What have you learned from failure? (Either yours or a failure that directly impacted you.)
Failure has only motivated me to work harder, push myself and do something even bigger and better the next time around. Be sure to learn from your mistakes but don't dwell on them too much. Life is too short!
Anything else to share?
Two weeks ago, we launched our fundraising campaign on indiegogo and as of now our indiegogo has raised over 20k. However at this point any support, no matter the amount, is immensely helpful. Even just spreading this to some close friends and maybe sharing it on social media. Thank you Glassbreakers and to the Glassbreakers community for your support.
--
Rachel Conant is an entrepreneur, artist, art business manager, maker, philanthropist and street art curator. She can be found between NYC, LA, Chicago and Big Sur empowering emerging artists to become cultural icons.  She is passionate about community, equality and the ability for art to transform society. Her favorite color is rainbow.
Read more on Glassbreakers and connect with other women by signing up here.