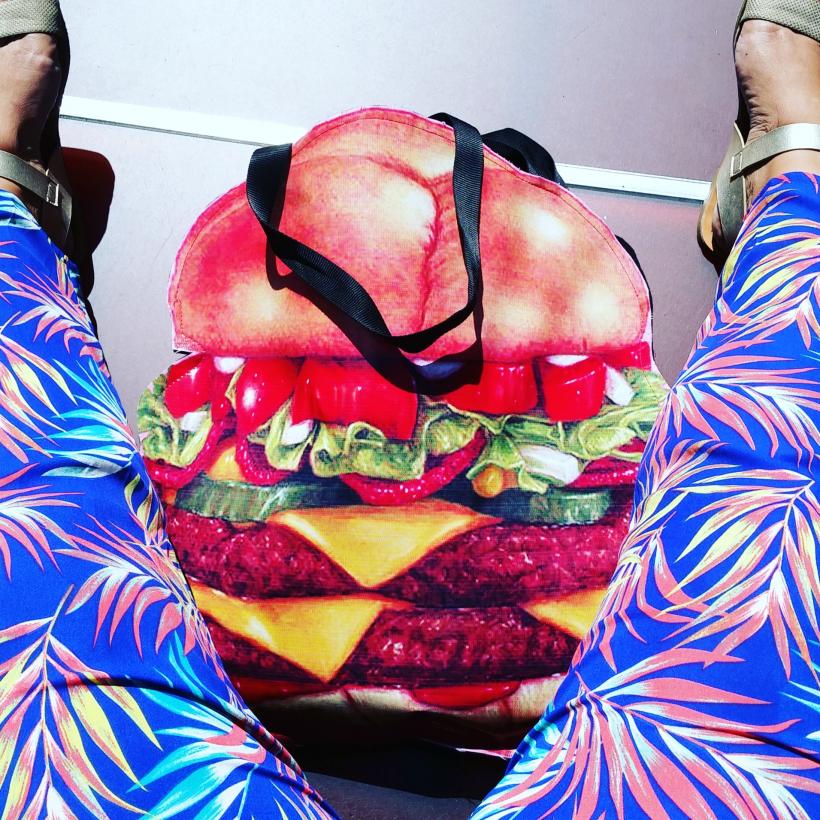 #PlusIsEqual. Or is it?
Lane Bryant is a plus size garment retailer whose clientele is no stranger to being shut out of fashion. I feel like there are probably myriad possibilities as to WHAT THE HELL WENT WRONG, but let's live in Virgie World for a second and discuss my take on it.
On Monday I brought my fully charged Instagram machine and my giant torso-sized hamburger purse to Lane Bryant's #PlusIsEqual rally in Times Square. I was ready to rep-re-sent fat girls. 
I'm one of those fat ladies who wears neon crop tops and miniskirts with koalas on them. I talk back to fat-shaming assholes on the train. I get my pierogi fried, not boiled. I don't wear a girdle, and I don't diet.
Not now. Not ever again.
To be sure, I'm not a model citizen in our weight loss-obsessed culture, which expects me to live a muted and apologetic existence because I am a fat woman. And arguably, even though I buy plus size clothing, I'm not even the ideal customer for plus brands like Lane Bryant.
Up until recently, Lane Bryant's messaging was, essentially, no messaging (at least none that I could discern) — a big, silent mea culpa that mirrored all the ways in which fat women are also expected to be silent; in stasis until the ever-elusive day that we graduate to our "real" lives . . . our thin lives.
I've gone into Lane Bryant about 68 times in my life, and each time I'm lucky to leave with a faux-snakeskin belt or wide-shaft boots in an on-trend style. Most of the clothing, however, is draping, muted, and made up of superfluous yards of fabric covered in condescending ruffles and flowers. Imagine a fat baby going to a funeral for her formerly fat self and you've got Lane Bryant's general look.
Sorry bout the truth bombs, LB. 
So when they launched #ImNoAngel (a playfully confrontational reference to Victoria's Secret Angel line), and then, more recently, #PlusIsEqual, I was excitedly surprised.
So yesterday I went to the #PlusIsEqual rally in Times Square with my friend Emily.
Em had expressed her reservations about the rally in what seemed like an attempt to forewarn me while also distancing herself from any horrific outcomes, in the way that people talk about that friend who says weird things at house parties: "Well ya know, he's a really nice guy, but sometimes he just goes off when affirmative action comes up."
What's so interesting is that it's loud and proud women who have paved the way for messaging like #PlusIsEqual. I am thinking of people like Beth Ditto, Marilyn Wann, Marie Legette, Deb Burgard, Jes Baker, Jessamyn Stanley, and even myself. In the 1980s and '90s, it was the dozens of whip-smart (mostly) lesbians who pioneered the contours of this unapologetic politic with groups like "Let It All Hang Out" and the "Fat Lip Readers Theater." Though their work is what got us to this rally, #PlusIsEqual was a far cry from the fat politics I know. Also, I'm sure that they all would have been just as flabbergasted as I was yesterday.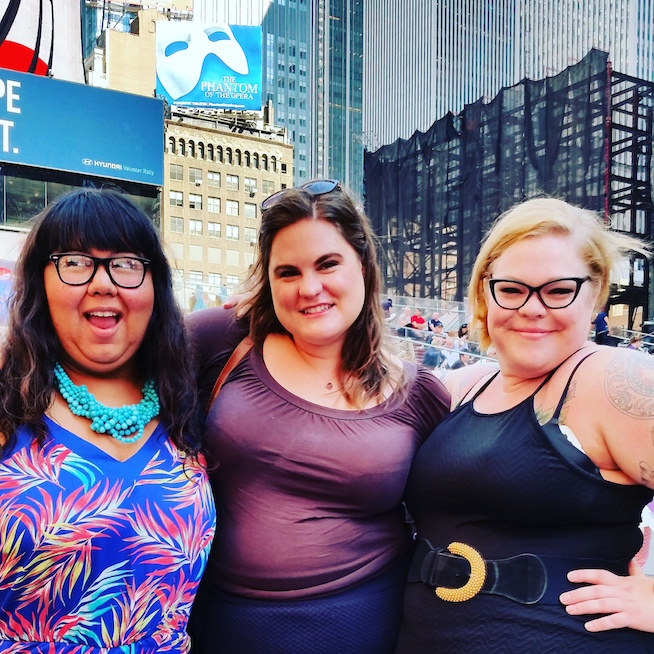 Emily and I decided to meet near Times Square before the #PlusIsEqual rally, and over coffee she again conveyed her concerns one last time before we walked to 47th and Broadway, where a small group of people was beginning to gather.
The first thing I saw were women wearing amazing, tight, black #PlusIsEqual T-shirts, and being the sort who likes to use fashion to make political statements, I immediately began snooping for WHERE I could get one of them. They didn't have any of the black shirts available for free or for sale at the rally it turned out, but they were giving away purple Lane Bryant branded t-shirts featuring a #PlusIsEqual logo.
I quickly found the booth. I was waiting in line behind another plus size woman. After she spoke briefly to the T-shirt passer-outer she turned away, no T-shirt in hand, her face a mildly contorted mix of annoyance and resignation (I know! It's a very specific look!). When I got to the front of the line, I immediately understood the cause for girlfriend's consternation.
"I want a shirt so baaad!" I said.
 "OK! What size?" Shirt passer-outer said.
 "What sizes do you have?" I asked.
"Small, medium, large and extra large," she said.
I waited, thinking she was taking a second before she continued listing the shirts that said #PlusIsEqual for the plus size rally that came in PLUS SIZE.
But she was done. Those were the only sizes that had been made for the event.
Let that just sink in for a second.
Lane Bryant is a plus-size garment retailer whose clientele is no stranger to being shut out of fashion. I feel like there are probably myriad possibilities as to WHAT THE HELL WENT WRONG, but let's live in Virgie World for a second and discuss my take on it.
It's possible that a series of people — or perhaps just one new intern guy — forgot what Lane Bryant is/does. Regardless, it had the effect of alienating women who can't wear straight sized clothing — aka, uh Lane Bryant customers, right? In the call to demand equality for plus size clothing and models, LB decided to favor smaller-bodied people to act as their brand ambassadors in an attempt to distance the campaign from actual fat women.
And it didn't stop there.
It was nearly noon (the start time for the event) and because I am resilient (and own a pair of scissors I can use to alter my T-shirt), I was 'gramming, tagging the event, and saying hello to some plus size bloggers that LB flew in for the event.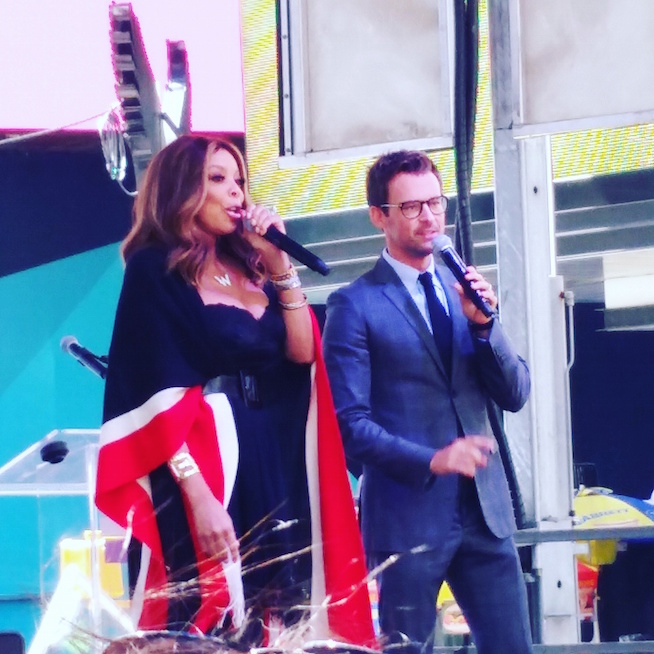 Then a comedian who is a size 10 (she divulged her size to us) gets on the stage, and it turns out she's the MC. During her first five minutes onstage, she has us chant "Plus is equal! Plus is equal! Plus is equal!" which was fun because we also had pompoms and paper blowhorns. And then, in a stupefying turn of events she tells us that she lost 85 pounds. And then. . . wait, I'm about to blow your mind. . . the crowd erupts into applause.
App-lause. 
You, like me, might be wondering, "Did I fundamentally misunderstand the purpose of #PlusIsEqual?" As the event continued, I could only conclude that the answer is, um, yes.
Guest appearances were made by Wendy Williams, Brad Goreski, the Brooklyn Marching Band, and a dance troupe that was amazing — except the part where the spokesperson dancer took the mic and began talking about how curves are amazing but eating too much isn't.
Does it never end?!
My favorite part of the rally was Emily heckling the entire time. I was too Californian to do such a thing, but now I'm e-heckling and that feels just right.
If you can believe it, I went into this event genuinely ready to be stoked. I presumed the messaging wouldn't give me the feminist tingles but I was not prepared for what can only be described as fatphobic.
Lane Bryant is not alone in their attempt to capitalize on the language of a politic that they do not in fact support. This tendency to trot out the skin of a gutted politic is not new. We have been watching Cosmo co-opt feminism for years and the spice Girls claim "Girl Power." This is just the latest in a chain of the misguided and exploitative use of hard-won language and movement growth. I don't have any problem with a company wanting to clothe a new generation of plus-size women, but we deserve better than this. 
Without the tens of thousands of people online who take selfies of their cellulite, double chins, and jiggly arms, #PlusIsEqual would be unthinkable. Without books like Health At Every Size, Fat?So!, Dietland, Hot & Heavy, Two Whole Cakes, and Lessons from the Fat-o-sphere, Lane Bryant wouldn't have any interest in diverging from their old marketing. 
What is important to remember is that at the core of #PlusIsEqual are the roots of a political movement that was developed to grant women autonomy over our bodies and our lives, to free us from the sinister mechanisms of diet culture and food policing, and to demand humanity and actual equality.
If #PlusIsEqual is ever going to be more than a hashtag, Lane Bryant has to rethink their messaging, stop apologizing for their customers, and for the love of GOD get some bigger shirts.