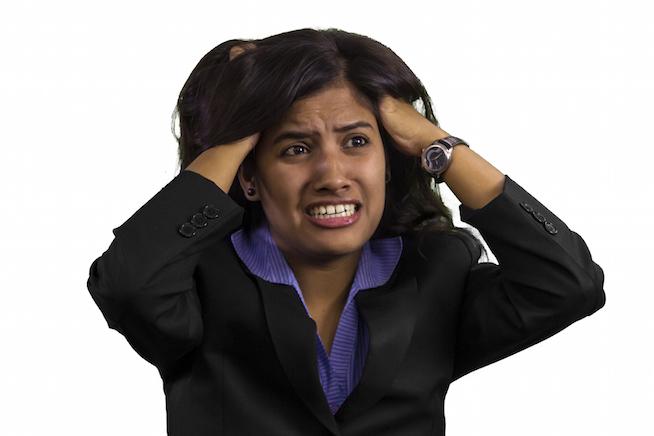 No one likes uniforms. NO ONE.
Dear Winona,
I recently got a new job at a hotel. I love the job but the uniform is killing my soul. I have to wear this boxy corduroy vest from the '80s and it looks teeerrrrriiibbble on me. It's hard to feel confident and outgoing when I feel so frumpy and ugly. Is there any way to save this situation?
Signed,
Bad In-vest-ment
Dear Investment,
Unflattering work uniforms are the WORST. I understand that office dress codes and work uniforms serve a purpose (creating a unified image for staff, signaling your role to customers/guests, protect your personal clothing from workplace messes, blah blah blah) but why would a company feel the need to subject their employees to a boxy corduroy vest? As a punishment, maybe, but as a necessary component of the daily uniform? Way harsh.
But enough ranting, let's focus on some practical options.
Is there any aspect of the outfit/uniform that you get to choose? If so, let this piece be your saving grace. For example, if you are supposed to wear your own white button-up shirt underneath the horrible vest, buy a beautifully constructed shirt in a soft, high-quality fabric that feels like heaven against your skin. Or maybe you've been instructed to pair your horrible vest with plain black trousers of your choosing. If so, make it your mission to go out and find the most beautiful, flattering, comfortable, well-made black trousers that this world has ever known. Black trousers that make you feel so fabulous you're tempted to wear them out for a hot date night, but instead you gladly and proudly pull them on for work, nearly forgetting how awful your vest is by comparison.
Basically, anything you can do to compensate for the vest in other areas of your outfit, do it. It sounds like the main problems with the vest are that it's unflattering and doesn't fit your body well, so focus on amping up the fit and flattery in every other aspect of your outfit. Don't hesitate to get your blouse and pants tailored to fit your body perfectly (seriously!), or opt for a bright pair of tennis shoes that make you smile every time you glance down at your feet. Remember how your mom used to buy you an ice cream sundae on the way home from a depressing trip to the dentist? This vest is the dentist; be sure any optional parts of your outfit are a sartorial sundae.
Now let's say you don't have a choice about any part of your outfit. Maybe, in addition to the horrible vest, you have to wear company-issued pants and shirts and your bosses are super strict about the type of shoes you wear. My two favorite tricks in this scenario are:
1. Pretty underthings. Whether your work requires you to wear scrubs or a jumpsuit or an ugly vest or a striped hat with a propeller on top, wearing fabulous underwear underneath is a great way to privately feel a little more stylish and unique. Don't opt for lingerie that's so pretty it's impractical (a $200 lace balconette bra probably isn't the best choice for a 12-hour shift at the hospital), but do get a basic bra for work in a fun color or pattern and splurge on some cute panties to match.
2. Treat yourself to an awesome non-work outfit. As a reminder that your work uniform is distinctly separate from your real-life wardrobe, treat yourself to a beautiful piece of clothing for outside of work. Maybe it's that gorgeous leather jacket that finally went on sale, or a funky sequined skirt, or a pair of hot pink suede pumps. When you slip into this fun garment after your shift, memories of your horrible vest will instantly melt away. At least until tomorrow morning, when you put on that horrible vest again, go to work, and kick ass. And guess what? Someday, when you're the CEO of this hotel, you (probably) won't have to wear a boxy corduroy vest anymore.