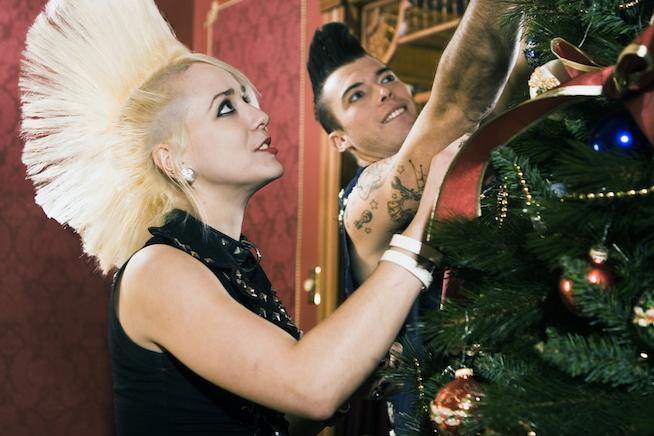 New couple alert! Should he trim my tree?
She's made all the mistakes, so you don't have to…Ask Erin! is a weekly advice column, in which Erin answers your burning questions, about anything at all.
Q.
I have been dating my new boyfriend (it is so weird to write that!) for a little over a month. We just, as in this week, made it "exclusive." I have been in long-term relationships in the past and the holidays were a no-brainer. And when it's casual, that's easy to figure out too. But this is foreign territory for me. Do I get him a gift? Do I ask him to join me at my parent's house on Christmas Day? I don't think he is going home for the holidays and I don't know if he made other plans. He hasn't said anything. Do I bring it up? Is it too soon? And, should I expect him to make plans for us on New Year's Eve? Do I assume he's my date that night? LOL Oh, this feels very complicated. I know I am probably overthinking things and I don't want to seem pushy about all this holiday stuff, but what how should I proceed?
A.
Darling, you are overthinking it. I get it, it's unclear what the "rules" are for holiday time in new relationships. You don't want to be presumptuous, but you also don't want to be a jerk and ignore the holidays, because your new beau actually means something to you. So, let's break it down.
The Gift: Yes, get him a gift (if gifting is something you participate in), but nothing too big or too impersonal. A book is my favorite go-to gift for everyone. Even for my friends who don't read, I can always find a book to suit him or her. A book can reflect what you know about him and/or reveal a little about you. I would give a book you love that is not out of his realm (meaning don't get him your favorite chick-lit book). Give him a book that means something to you, or alternatively go for the funny. Some random suggestions of books I would buy for a dude: Sick in the Head: Conversations About Life and Comedy, Mother. Wife. Sister. Human. Warrior. Falcon. Yardstick. Turban. Cabbage., The Russian Debutante's Handbook, The Rap Yearbook: The Most Important Rap Song From Every Year Since 1979, Discussed, Debated, and Deconstructed. You get the idea.
Christmas Day: No, don't invite him. If he had already met your parents, then we could talk about it. But, I think holidays are a bad time for the first meeting. It's awkward to be privy to someone else's family dynamic too early on. Instead, see if you can cut out of family time a little early and meet up later for some Netflix and chill. Tell him you have plans with family earlier in the day but would love to hang later for some cookies, sex (or making out), and whiskey (or root beer). Who knows, maybe he already had a Friends-mas planned!
New Year's Eve: Never assume anything. Being that you're such a new couple, he could have plans to go skiing with his bros. But, definitely bring it up. It doesn't have to be a big deal. It can be a casual, "Hey, do you have anything planned for New Year's Eve?" If he doesn't, then make a plan and if he does, then make a plan with your ladies. Also, I will note that most dudes I know are not in into the big, crazy, expensive night out on December 31st. It is, after all, amateur night. Hopefully, one of you has an awesome friend who is having a NYE party that will be chill but fun. Thank your lucky stars for that friend. As for me, I'll likely be on the couch, with my man, watching The First 48 or Lockup, because holi-daze.
If you have a question for me about sex, relationships, divorce, exfoliation, meatball subs, or anything at all, email rarelywrongerin@gmail.com. As always, your anonymity is golden. xoxo