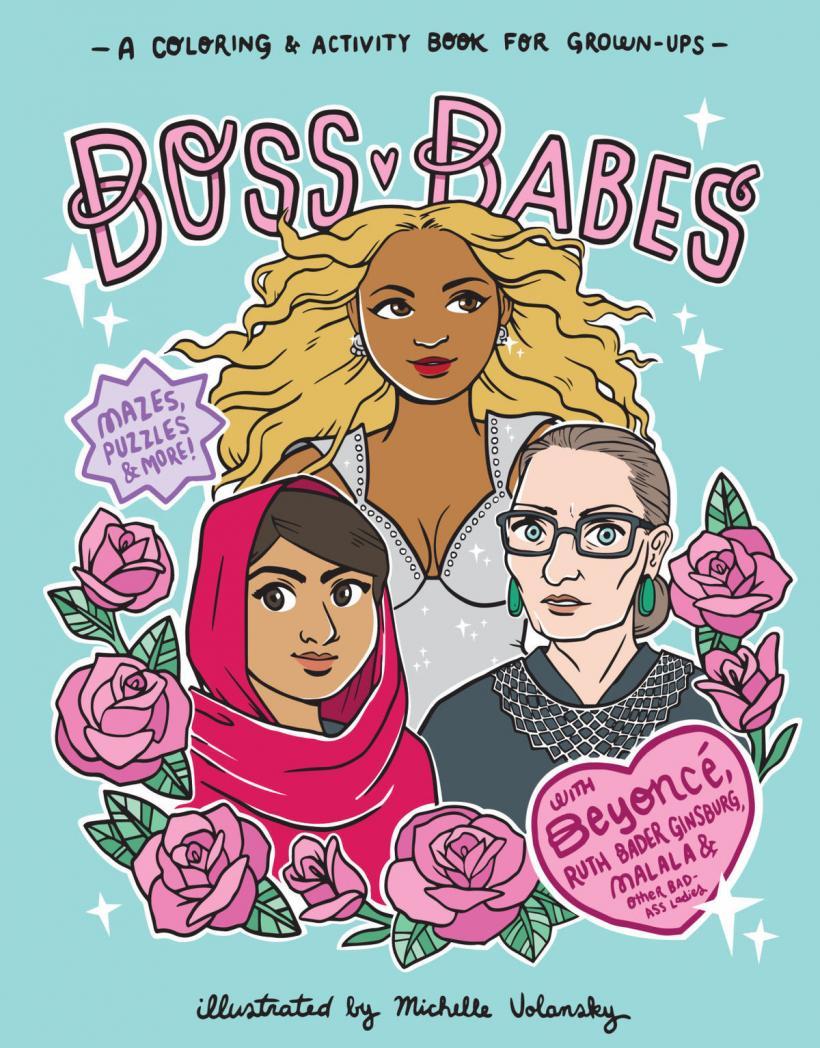 Boss Babes: Get Ready For A New (Feminist) Coloring Obsession
If you are anything like me (or just about anyone else in my Instagram feed) then it's highly likely that for Christmas 2015, you got the go-to stocking stuffers, a selfie stick and an adult coloring book. Call me Kreskin, but I'm guessing you spent the entirety of your holiday vacation pouring over the latter, coloring mandalas and intricate floral designs until your eyes became crossed, and hand cramps and migraines came quicker than your holiday credit card debt.
Despite the inherent meditative qualities of coloring, you probably grew weary of those tedious designs, meaning your coloring implements joined the selfie-stick in your desk drawer (you know — the one at the bottom that holds your old yearbooks and weird poems from middle school). 
Luckily, you are about to have a perfect reason to drag your colored pencils out of their retirement and give them a new sense of purpose: Boss Babes: The Coloring Book for Grown-Ups by Michelle Volansky is here.
That relaxing past time is about to be forever transformed!
This St. Louis based illustrator has teamed up with Workman publishing to bring you a ridiculously adorable 96 page activity book busting at the binding with fun-to-color images of influential women (from Missy Elliott to Martha Stewart to Malala), interspersed with puzzles and games that follow suit in female bad-assery. Ya know, total adult stuff. 
Volansky decided to create Boss Babes as an accessible exercise in female empowerment. "I was seeing all my friends and family receive adult coloring books as presents last holiday season and remember flipping through one thinking: Michelle, you have to try your hand at this. You would be stupid not to. My dream job would be getting asked to draw portraits of bad-ass, contemporary feminist heroes so why not take matters into my own hands and hire myself for the job?"
Much to the delight of anyone that picks up the whimsical book, Volanksy has taken the traditional activities you remember from childhood, like paper dolls and word searches, and injected them with often hilarious boosts of pop-culture and estrogen. Here are some of the hilarious examples:
Design a back tattoo for Margaret Cho or an avant-garde outfit for Bjork.
Connect the dots to conjure JK Rowling's patronus. 
Help Amy Poehler write an episode of Parks & Recreation Mad Libs style. 
Complete a maze where you help the group TLC dodge scrubs.
Figure out a Marie Curie inspired sodoku.
And seriously, anything else your weird mind could concoct in a magical fever dream. Doesn't that sound more fun that whatever is gathering dust in your bottom drawer? 
The variety of women included are stellar and venture outside the standard "girls rule" pinups like Beyonce and T. Swift, some understated heroes of the species are included- everyone from Rachel Maddow to Amy Winehouse. 
Volansky took choosing the featured women very seriously, saying, "I wanted to feature women who are truly bosses in what they do, whether that's singing songs that make other women feel  great, running for president, leading civil rights movements, or just not being afraid to make jokes about female sexuality." 
If you can think of another conceivable way to spend a rainy afternoon surrounded by the OG RBG (Ruth Bader Ginsburg), Selena, Amy Schumer, and Eleanor Roosevelt for just around $10, please let me know. In the meantime, I'll be sharpening my colored pencils and falling headlong into a new obsession.
Quick question, is Beyonce's hair more burnt sienna or honey brown?