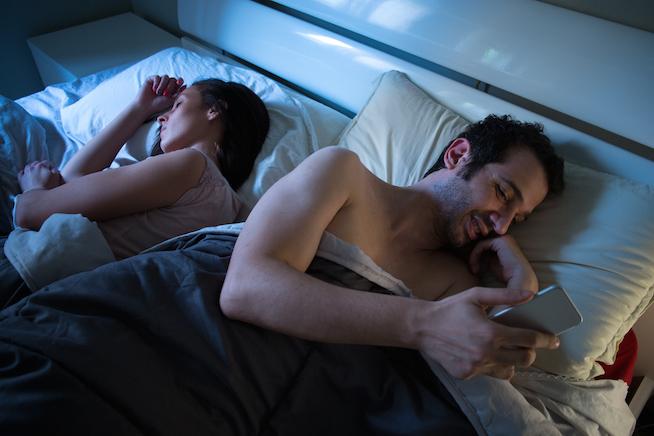 It's funny how you leave one toxic relationship for another. Image: Thinkstock.
She's made all the mistakes, so you don't have to…Ask Erin is a weekly advice column, in which Erin answers your burning questions about anything at all.
Q.
I was in a very long (25-year) relationship with a man. He was a narcissist. We would break up for a while, but always managed to get back together. We moved out west to get away from people that wanted to see us fail.
Lo and behold, during our long-term relationship, he was never faithful. I never knew, as he was a truck driver and I was gullible. We got married after 24 years and I was happy being oblivious.
He wasn't the best man to our children. He even manipulated me into taking him back — even though it meant I would lose my children's trust and loyalty. My kids moved out; he moved back in. I caught him "cheating." And, yes, quotation marks for that one. Never physically saw it, but read all the texts on his phone.
I kicked him out. It's been over two years. My kids are back home, and it's not the same as before, but they are here.
Currently, I'm dating a new man. He is just as narcissistic as the soon-to-be ex-husband. Even worse, I've allowed him to degrade me while having sex. He's always telling me about other women he's had and how I don't measure up. He used to be a very attentive lover when we first started dating, but that's changed. Also, he's an alcoholic and admits to it.
When I have stood up for myself with him, he texts me nonstop. I've been mean to him in recent texts. He's tried playing the guilt card a few times and I've fallen for it a few times.
It's funny how you leave one toxic relationship for another. Is it that I deserve this treatment? No one deserves to be treated with such disrespect. In my mind I know that. In my heart, I know that also. My libido on the other hand, has a different attitude.
Why do I keep returning texts or phone calls to either man? Why do I let them into my little bubble? I've been to counseling. Hell, I'm a social worker that has counseled many women about abuse, etc.
I feel like I have a target on my forehead that says "All narcissistic men sign here." Any suggestions would be nice. Where do I go from here?
A.
It's clear to me from your email that you know what you have to do. The bridge between knowing and putting that knowledge into action can be challenging. As you mentioned, you see this all the time in your work. It can be hard to take our own advice. But you CAN do this.
The reason that we repeat relationship patterns is that our brains gravitate towards familiarity, even when it's painful and toxic.
Additionally, there is some part of the psyche that seeks to heal old wounds, correct a wrong, by playing out a similar scenario again. This is why our childhood familial relationships often lay the foundation for the types of intimate relationships we have as adults. Recognizing the pattern you're in is truly the first step, and you're there.
When someone in a toxic relationship comes to me for advice, one of the questions I always pose is, "Is this the relationship you would wish for, for your child, or best friend, or sibling?"
I bet the answer is no. What would you tell them? How would you show them the value of their love, their time, their energy?
It's not going to happen overnight, but you can begin to repair the relationship you have with yourself.
As hokey as it may feel to do, make a list of all your positive attributes. I don't care about your flaws. They are not allowed on the page. Pretend you're someone else if you have to — just make that objective list. Put that list where you can see it to remind yourself of your value.
Next, make a list of all the attributes you want in an ideal partner. I guarantee you these men do not fit the bill.
Cut off ALL contact with both of these men, NOW.
I am assuming your kids are grown, as they've moved in and out. Only talk to your ex-husband through your lawyer, if possible. If you must have communication with him, let it be strictly business and nothing else. Do not allow him to take you into any emotional or personal discussion. With the other man, block his email and phone number, and break all social media contact with him. Life is too short to waste anymore energy on these soul suckers.
Lastly, you mentioned that you had been in counseling.
Get a new therapist.
I am dead serious about that. And when you get that new therapist, be HONEST. I have seen friends waste years in therapy with little improvement and I am 100% sure that they either have a crappy therapist or they are not being honest in their sessions. I have done the latter and wasted time because I was portraying a different reality to my therapist.
Twelve-step meetings such as Al-Anon would also be beneficial, particularly since you mentioned alcoholism in one of these relationships.
Lean on friends, find that support within a community, like a 12-step group. I cannot stress strongly enough the importance of being honest and accountable to others.
When you want to respond to a text, when you miss that contact, SIT ON YOUR HANDS.
If you have to do it by the day, hour, or minute — promise yourself to refrain from contact in small, and then larger, increments. It will get easier.
And I believe you will find the relationships you have with your children will greatly improve as you become healthier. It is never too late to become a good role model for them.
I have compete faith that you can do this, that you can find yourself and love yourself again. And when you do, you will be so grateful that you have.
---
If you have a question for me about love, marriage, parenting, sex, Cats, sunscreen, Bachelor in Paradise, bikini waxes, casseroles, or anything at all, email me at rarelywrongerin@gmail.com. As always, your anonymity is golden. xoxo