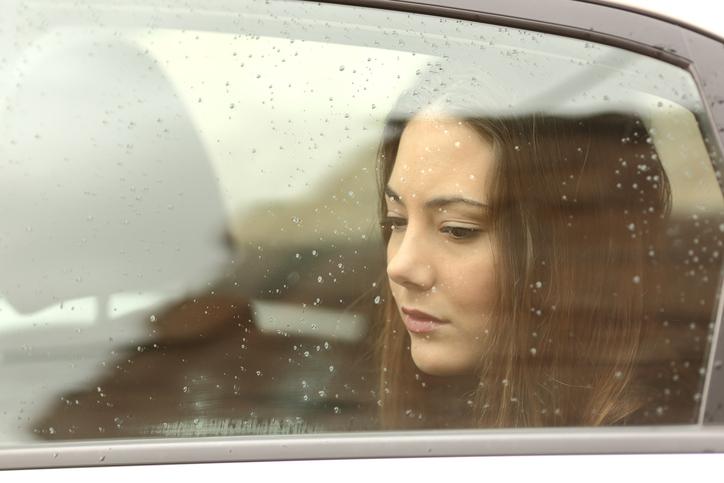 Breaking up sucks. Pretty much always. (Image Credit: Thinkstock)
She's made all the mistakes, so you don't have to…Ask Erin is a weekly advice column, in which Erin answers your burning questions about anything at all.
---
Q. 
 Hi Erin, 
I am going through my first breakup ever and this is extremely painful. I have been crying for 72 hours straight and am making myself physically and mentally sick.
I am 21 years old and I lived with my 30-year-old artist boyfriend. I lost trust in him ever since he came back from a business trip and accidentally unpacked his condoms right in front of me. 
A few months later, I peeked at his phone to find he was in fact speaking sexually to another woman, saying things like, "You're making me so hard," etc. He admitted he was wrong and blocked the girl off of his phone. 
We would get into arguments occasionally, and he has put his hands around my neck and pinned me down. I know that you are thinking he sounds like a monster, but somehow the good outweighed the bad. We recently moved in with my older sister, which was a disaster because my sister is very difficult to get along with. 
After being homeless for a month and bouncing around on couches, he told me that he wants to move to Brooklyn with his friend and his friend's sister. There was no room for me in that equation, and I told him that if he did that, I would break up with him. He had decided not to, but changed his mind when I logged on to his Instagram and found he'd been sending kissy faces to another girl. 
I know the signs are clear, but he is a one-of-a-kind special being who has been incorrectly prescribed anti-depressants and amphetamines. I really do feel it makes him act psychotic. 
I took my rage out by letting his family know the way he treated me, between the cheating texts and the physical aspect of it. I also let a business partner in Italy (who he would have been staying with) know what has been going on. They have agreed not to work with him and I am scared it's going to bite me in the ass. 
I don't want to be spiteful, but I am so hurt and live in a dysfunctional house of alcoholics, so I am on the edge here. Any advice ASAP would help please.
A. 
Okay, deep breath. There is a whole lot going on here. 
First, the pain of breakup sucks, even when it's CLEARLY what's best for you. And you are going to be sad and feel like you won't make it through this, but I promise you will. 
If, at any point, you feel like you might harm yourself, PLEASE reach out. Reach out to me, reach out to friends, reach out to the National Suicide Prevention Hotline (via their website or by calling 1-800-273-8255). 
You won't feel this way forever. 
I guarantee that. I have been there, in the throes of heartache that is all-consuming and seemingly endless. But, it's not. You will feel okay again, you will feel good again, you will smile and laugh again, and you will love again. 
Now, let's address some other major issues. 
This man is no good — not for you, not for anyone else, not for himself. He needs help. And that is not your problem. He is a cheater and an abuser. Not okay. 
As I always do in situations like this, I pose this question to you: If your friend/sister/daughter were dating this man, would this be what you would wish for them? I am sure the answer is "no." 
It does not matter if his behavior is a result of poorly treated mental health issues. You need to take care of you, and only you right now. I would highly recommend seeking the help of a therapist. (Please email me for help navigating low-cost options.)
Cut those ties with his family and business partners. There's no need to make this muddier. 
Lastly, at the end of your email, you mentioned that you are living in "a dysfunctional house of alcoholics." It sounds like you have a lot of unhealthy behavior around you. In addition to therapy, a 12-step support group would be highly beneficial. Al-Anon is a great place to start. 
You are worth far more than what you've allowed yourself thus far. 
You are young, you have a whole life, full of possibility in front of you. Take the time now to work on yourself and take care of yourself. It will make a huge difference in the types of relationships you involve yourself with in the future. 
---
If you have a question for me about love, sex, relationships, breakups, holiday survival, self care, Chrysoprase, or anything at all, use the contact form below or email me at rarelywrongerin@gmail.com. As always, your anonymity is golden. xoxo