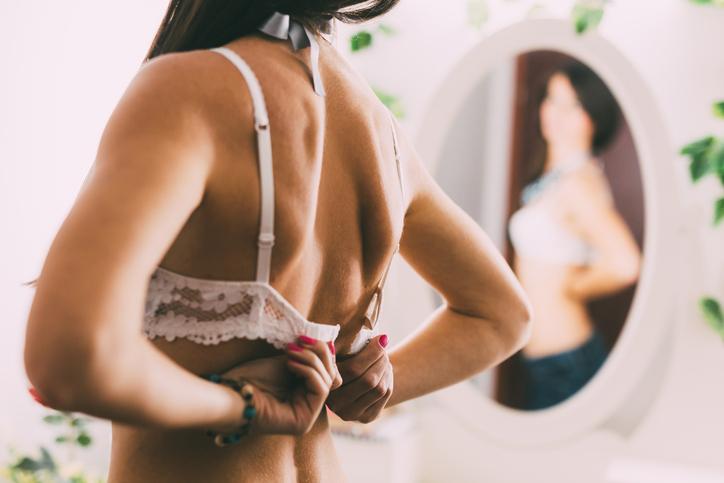 A properly fitting bra makes all the difference. Seriously.
I've been fitting women for bras for ten years, and can say authoritatively that most women are wearing the wrong size. What many women don't realize is that sore shoulders, irritated skin, or an aching back can often be relieved by a properly fitting bra. Even if you aren't experiencing physical discomfort, you might notice your shirts bunching or gaping…this, too, can be caused by an ill-fitting bra.
Especially for a woman with a large bust, the right bra can literally change your life. So I've put together eight quick tips to help you revitalize your girls and start 2017 with some renewed lift. 
 1. Cup Size Has No Meaning.
 When getting a bra, your cup needs a band size for it to be meaningful. In other words, not all Cs are created equal. A 32C has a much smaller cup than a 44C. And a 32C, 34B and 36A bra will all have the same cup size. So don't focus on the letter. Focus on how the bra fits you.
2. It's All About The Band!
Since our culture tends to talk more about the cup, I want to make sure I really emphasize the band part of a measurement! A properly fitting band is crucial because more than 90% of the support from your bra comes from the band. The larger your breasts are, the more important it is that your band fits properly.  
3. Wear It Snug.
Often, women look for a looser band because they don't want to show any back fat or bulging skin around the band. But if the band is too loose, the bra rides up and the breasts droop down. To get proper support, you need a properly fitted band, even if that means a little back fat. Wearing a thicker band can help to minimize back fat while still providing the support that you need. Your band should fit snug so that it stays in place when you move.
4. How Low Can You Go?
Your bra band should rest so the bra is slightly lower in the back than the front. Is your bra digging in or poking you? Try pulling your band down just a smidge in the back – you'll be amazed at how good it feels. (Remember — to get it to stay there, you may have to tighten it a notch or two!)
5. Never Compromise On Your Band. 
Unfortunately, many stores carry limited size ranges. This means they'll often try to fit women into a larger band just to get a large enough cup for their breasts. (Remember, the cup on a larger band will be larger than the same letter cup on a smaller band.) 
A woman should never compromise on band size. There are plenty of women with a large bust and small band. Just ask my customers who wear 34K or 30L.
6. Seams Are Your Friends.
Even if you're wearing the proper bra size, you might not be choosing the right style for your breasts. Molded, seamless cups are a great choice for a totally smooth shape, and work great under t-shirts or thin material. 
However, for many women, molded cups are not the best choice. With a molded cup, the bra has its own shape – and your breast either fits it, or it doesn't. With a seamed bra, the bra will conform to match the shape of your breasts, instead of the other way around, giving you that va-va-vivacious shape you have been craving.
Women with large cup sizes find they are supported in a seamed bra, even without underwire. This is because seamed bras with side support push the breast tissue forward and really give the effect of a lighter profile. Imagine moving your arms without brushing against your breasts all the time? This can become your reality with seamed cups and a good fit. This is me (size 36J!) with a seamless bra (before) and seamed bra (after) – it looks like I lost 20 lbs – but all I did was to change my bra!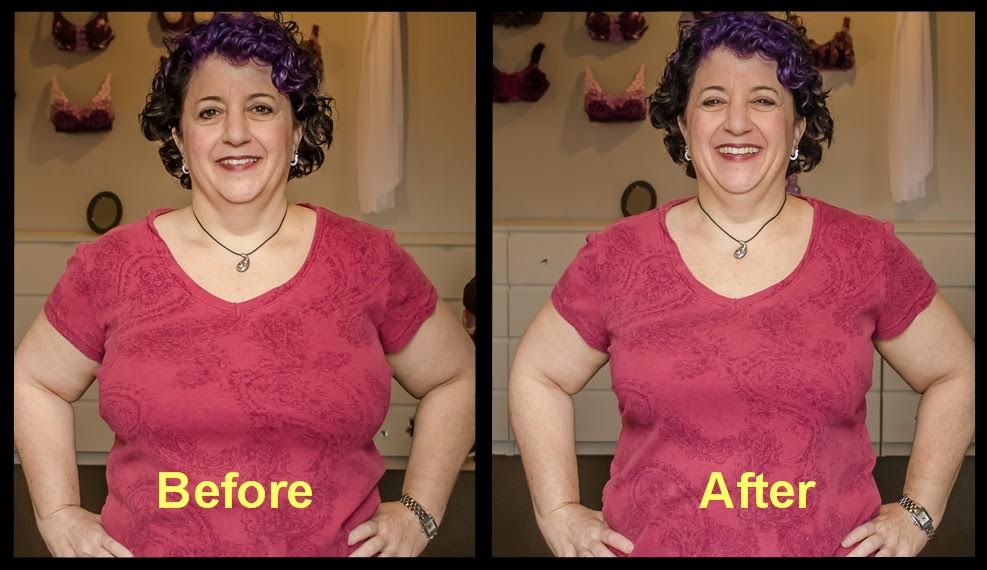 7. Get A Professional Bra Fitting.
Bras are such an important part of our wardrobe as women, and nearly 80% of us are wearing the wrong size or style. Finding the right bra (especially after your body has gone through changes like pregnancy or weight fluctuations) can put an end to your evening sprint to change into your pajamas after work. Because there are so many options (and no matter what size you are, you do have options), it's important to find a knowledgeable bra fitter who will give you personalized attention. 
8. Do It Virtually.
If you don't have access to a professional fitter in your part of the world, do it virtually with an expert who specializes in it.
Letting an experienced lingerie expert help you opens the door to someone who knows which brands run bigger in the cup or tighter through the band. It also saves you the stress of ordering something online that might be several letters (or inches) off in terms of fit. 
One of my most rewarding experiences was fitting a woman who had been wearing a 36D bra. This size was obviously not right for her, but she'd been to several stores and this is what she kept ending up with. When she left me, she was wearing a 34H and she couldn't have been happier – so much so that she gave me a giant hug on her way out the door.