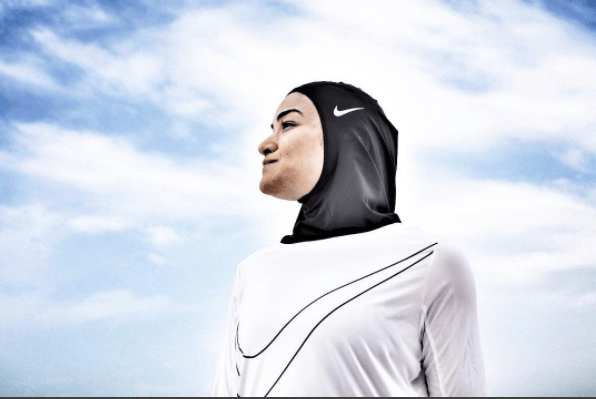 Nike's Pro Hijab is designed with female Muslim athletes in mind. (Image Credit: Instagram/manirostom)
Nike is getting ready to debut a line of sport hijabs for Muslim athletes. The Pro Hijab line is expected to hit shelves in 2018 and is being targeted at markets in the Middle East, though I certainly hope it will be available for sale here in the U.S. as well.
Nike was inspired to develop the line after several Muslim athletes gained international attention, including American fencer Ibtihaj Muhammad, the first figure skater from the United Arab Emirates to compete internationally, Zahra Lari, and Manal Rostom, a runner and triathlete currently living in Dubai. Several of these athletes were involved in testing the hijab during the development process. 
The finished product is made of a breathable, stretchy fabric and is designed to fit securely and not slip off during activity. The pro athletes all commented positively on the functionality of the headcover, noting that it's very easy to put on before a workout. It's expected to sell for about $35, and will come in three colors: black, gray, and obsidian.
Sports for women are a growing business throughout the Muslim world, and even here in the West, there's likely a thriving market for the Pro Hajib. I look at it and see a product that will make it easier for a young girl playing soccer with her friends to dive to save a goal without worrying about her headscarf slipping over her eyes.
Just on the face of it, this announcement is fantastic. Any product that makes it easier for women and girls to take part in activities that bring them joy and fulfillment is a good thing, as far as I'm concerned. I'm psyched on behalf of the Olympic level runner and the recreational athlete going for a jog in her neighborhood, both of whom now have one more way to be happy and comfortable while giving proper reverence to their god. That's awesome.
But on a deeper level, I'm reminded of America's split personality when it comes to Muslim people, at home and abroad. 
On the one hand, you've got the White House shrieking about the dangers of allowing Muslims to walk among us because OMGTERRORISMZZZZZ! On the other hand, you've got corporate America saying "Hmmmm. We should sell Muslim folks some sporting goods." We have both a curious blindness to the humanity of Muslim people and a pragmatic acceptance of the place of Muslim people in our communities and our economies.
One of these mindsets will eventually overcome the other, and my bet? It's on corporations accepting the reality of America, not politicians trying to control it.
I'm no expert in sociology, but I've been around long enough to recognize that when you see a particular group of people appear in mainstream marketing for products, they're probably here to stay. Maybe the guy at 1600 Pennsylvania Avenue still doesn't grasp that Muslims belong in America, but Madison Avenue sees it differently, and I sure hope that their view is the one we all eventually embrace.