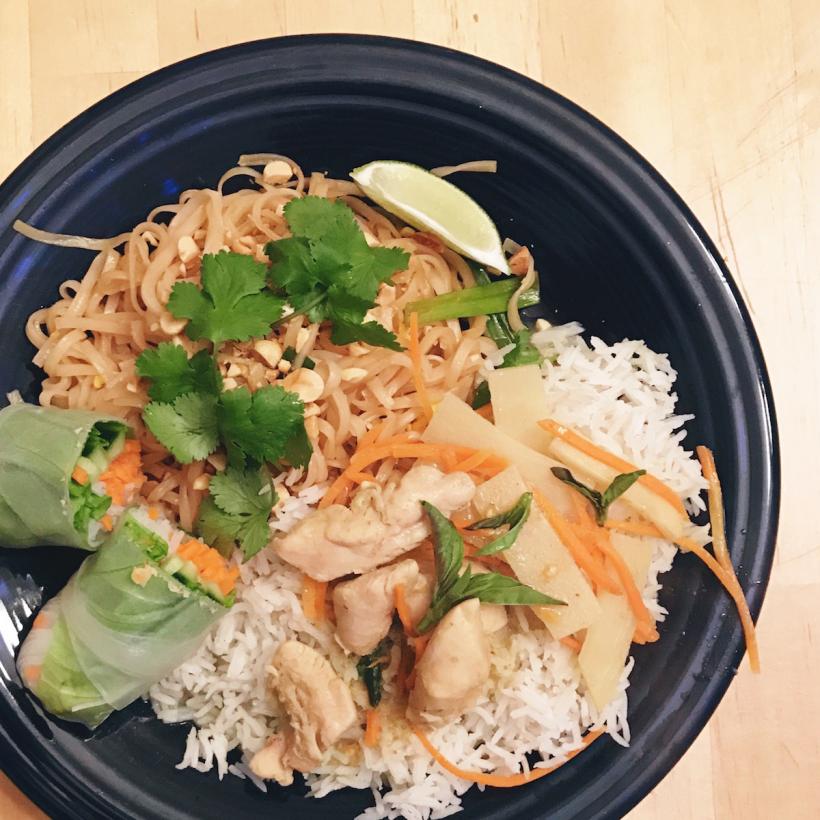 THIS IS MY CURRY. AND MY PAD THAI. AND MY SPRING ROLLS. I made all dis.
Cooking in my house is like a science experiment that ends with either A. me winning the Bocuse D'Or Culinary Competition or B. everyone crying like the dining room is on fire. My repertoire is limited to the seven things I know everyone will eat without being held under extreme duress, plus two others that I love enough to keep trying regardless of everyone's opinion.
I need something new. The Same Old Seven are getting old, and so am I. Those things are only related in so far as I am lacking in energy and imagination. I know I've made infinitely more meals than the seven I can remember, but I can't remember. This is a cry for help.
Pinterest is good, but you know what's better than drooling over a bunch of complicated recipes that end up looking like a pile colorful cat food? Asking people what they love to make often (that hopefully their children will also love to eat often).
Alas, the results:
Baked fajitas (chicken or beef). Julienne 5-6 red, green, yellow peppers and 1 red onion. Cut up chicken breast (or beef) about 2- 3 lbs and marinade the meat in a zipper storage bag along with olive oil, chili powder, crushed red pepper, salt, pepper and other seasoning to taste. Mix well in the bag then spread the meat with the peppers in a 13x9 pan lined with foil and toss together. Cover with foil and bake 20 min. Remove foil and bake another 10- 15 min until veggies are tender and chicken is cooked. Serve with tortillas. Very healthy as is, or can serve with sour cream, refried beans or whatever sounds good. Family favorite and easy
I think my family would not complain about this. In fact, I think I've made this and just forgotten it existed.  
2. From my beloved (and culinarily creative) Jenny Wiegley:
It's my special pasta — saute a couple minced anchovies until they melt into the (generous amount of) olive oil, then add red pepper flakes to taste, lots of minced garlic. Saute until the garlic is fragrant, then stir in your cooked pasta (I like spaghetti best) with a little cooking water, take off heat. Add chopped fancy olives (kalamata and oil-cured are both nice) and chopped fresh parsley. Sometimes I add the following: a cooked bitter green (broccoli rabe or nettles, which I'm using tonight), burrata on top for serving, lemon zest and juice, bacon — the possibilities are endless!
My kids might eat this if I NEVER EVER EVER TELL THEM THERE ARE FISH IN IT.
3. My boo Tammy is speaking my language with this easy peasy:
Turkey Spaghetti. Ground Turkey, Wheat Spaghetti Noodles, Jar of Pasta Sauce.
Cook desired amount of noodles per package directions. Brown turkey meat. Simmer pasta sauce. When meat and noodles are done add to pasta sauce and mix. Pair with a steam bag of vegetable to your liking = Dinner.
If anyone complains about this, they can go straight to hell.
4. This one from Erica Padilla, is the first one I tried:
I made it with chicken, because shrimp are too weird and crunchy and they have that weird poop thing in them. The kids were not so much into it (I made it spicy) but the adults and big kids were IN.
5. From Melissa Faith Talev:
She says, "it's an easy go-to that my family scarfs down (including my casserole-hating husband)."
I'm convinced.  
6. Faith Eichorst is speaking my cheesy language:
Cheesy chicken stirfry — chunks of chicken sautéed with low-sodium tamari, carrots, and green beans (original recipe from some diabetic cookbook used zucchini and green onion). If I'm super in a hurry I use frozen veggies. Sprinkle with sharp cheddar once almost finished. Serve on a bed of instant brown rice if carbs are your thing.
Can't I get an amen?
7. Peggy Mahan is trying to convince me that quinoa is good:
I'm going to make it just because she bragged so hard about it. Peggy, get ready.
8. Dani suggests quiche, and I don't hate it:
Quiche — approximately an hour including prep. You can even make it vegetarian style. Preheat oven 350. You can even use a pre-made pie crust. 5 large eggs, 3/4 cup milk, 2 cups other filling — meat, cheese, veggie or a combination of the three. Beat egg and milk, salt and pepper then add filling, mix. Pour into pie crust the bake for 45 to 50 minutes.
Meat. Cheese, Eggs. Bless.
9. LaLasha loves the one-pot meals (and with the Instant Pot craze in full effect, this works!):
10. Meghan offers us another one-pot solution. If this means less dishes, I am IN.
Again with the shrimp though. Why do people like shrimp so much?
11. Kara Shaw suggests pork tenderloin, which I feel like is a pretty safe bet.
Pork tenderloin — stuff it with apples and pour apricot jam on top and bake. Yum. Easy peasy. Serve alongside roasted potatoes and Brussel sprouts (which you can make a glaze for by simmering equal parts balsamic vinegar and honey with a tablespoon of rosemary. Simmer til thick). Everything takes about an hour.
I love apricot jam. Sold.
I WOULD EAT THAT.
Also I feel like Nikki might be a really good neighbor…
14. Susan Lee reminds me that angel hair pasta with tomatoes and basil is delicious.
One of those things that my brain forgot that I love.
15. Kristy shares what she calls CHICKEN STUFF:
Crockpot:
Cube 4 chicken breast
1 can of chicken broth
Italian seasoning, salt & pepper
Cook on low (approx 6 hrs) 1 hour before you're ready to eat turn up to high and add:
1 family size cream of chicken
1 cream cheese (mix well)
Cook minute rice and put chicken stuff on the top of your rice
DONE! Super easy! My kids love it
I BET THEY DO. THERE IS CREAM CHEESE IN THERE.
WHAT IS A PANCETTA CROUTON? I WANT IT.
Also, Rachael is so cute in person. How cute is she (with ME)?
She's also very friendly and shockingly tiny.
17. Another pasta from Erin, this one from Martha Stewart. I don't care if it's wrong, I love pasta forever.
18. Megan Zander's family loves this Mexican casserole. It, again, has cheese on top. Any food with cheese on top is something I will make and/or eat.
19. Emily, my forever friend, suggests breakfast. Which is AMAZING. DUH.
And there you have it. Nineteen new meal choices that hopefully no one will cry about.