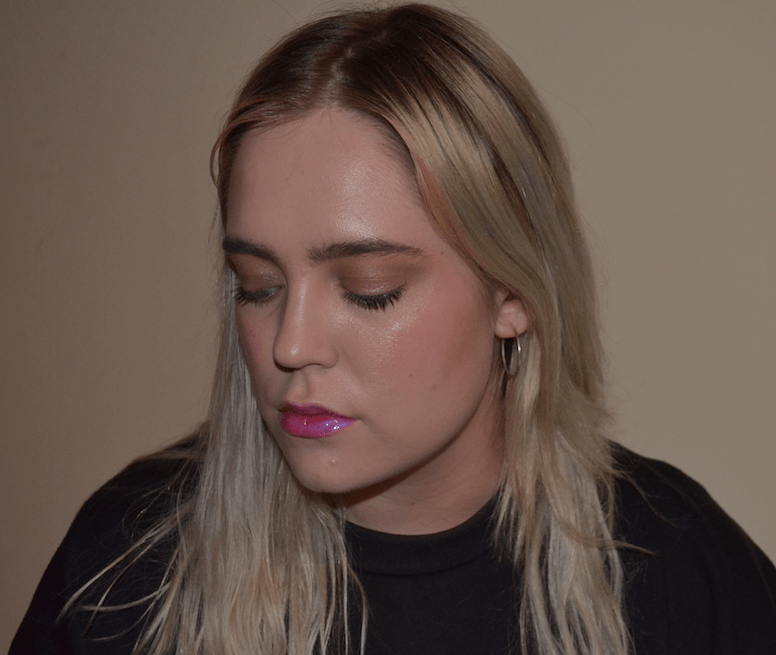 All you need is a $2 matte lipstick and some CeraVe. Boom - dewy cheeks.
As someone with a longstanding and deep love of a shine-face, powder blush has always been somewhat of a problem area for me. I don't want the dry, powdery cheeks indicative of a dry, powdery face.
I want my cheeks to look plump and dewy, like a young farm mistress or someone windswept and slightly sweaty after a brisk wintery walk.
In fact, despite owning a collection of makeup some may consider "ridiculous" or "taking over your whole flat" (what-ever), my powder blush collection is way down towards the "normal person" end of the spectrum. Cream is the word.
And while there are an abundance of cream blush formulas that are near and dear to my heart (I reckon Topshop's are some of the best, and definitely not some of the most expensive), there is a particular level of dew I sometimes crave which is difficult to find. The closest I've found comes in the form of a MAC Casual Color (Lazy Sunday is my recommendation for icy blondes everywhere), whose description boasts Annie buzzwords like "creamy" and "emollient." Anything that the haters may term as "greasy" is my definite jam.
But recently, I've been venturing outside the box in creating my very own creamy emollient and, let's face it, a little bit greasy blushes. And you can too, using stuff I'm sure you already have. All you need is a lipstick in the color of your choice, and some sort of balmy-substance.
A word of caution: the lipstick formula you choose is important here. I recommend going for something with high longevity claims, and preferably on the matte end of the spectrum. You want full, opaque color, with minimal shimmer. A great and cheap choice are the Wet 'n' Wild Megalast Lipsticks. These are some seriously good lipsticks: cheap, matte, long-lasting, and in an abundance of really great shades. Here I am demonstrating with two, but the whole range is formula-wise perfect, so just go for the color that most appeals.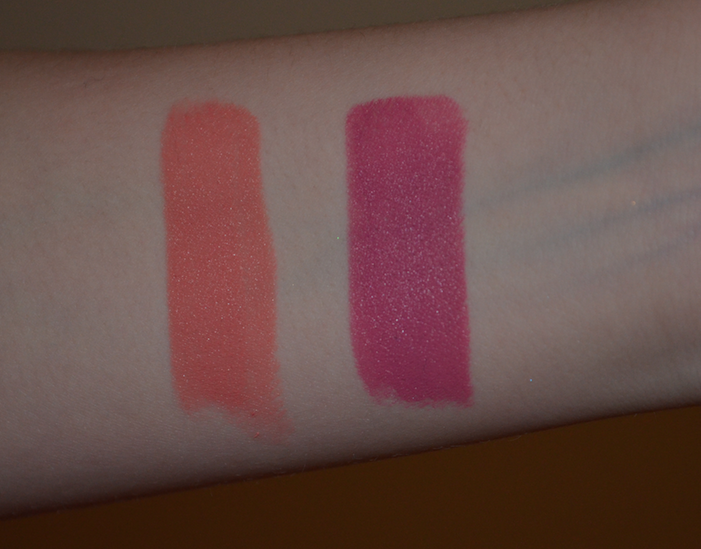 I'm using Just Peachy (a light, '60s-ish peach) and Mauve Outta Here (a lilac-ish pink), because why not show two options, right? And no, I didn't go out wearing this different-color-on-each-cheek look, but I predict a future trend…
First, take a generous swipe of the color on your forearm (or wherever, but forearm is a good, safe bet). The amount here is probably enough for two cheeks, because that's how I'm used to making these concoctions.
Next, add a small pea-sized amount of some sort of balm on top of your swipes. I used the CeraVe Healing Ointment, but anything with the vague texture of Aquaphor will do the trick. Rub around with your finger until the lipstick and the balm have become one diffuse, watercolor-esque patch.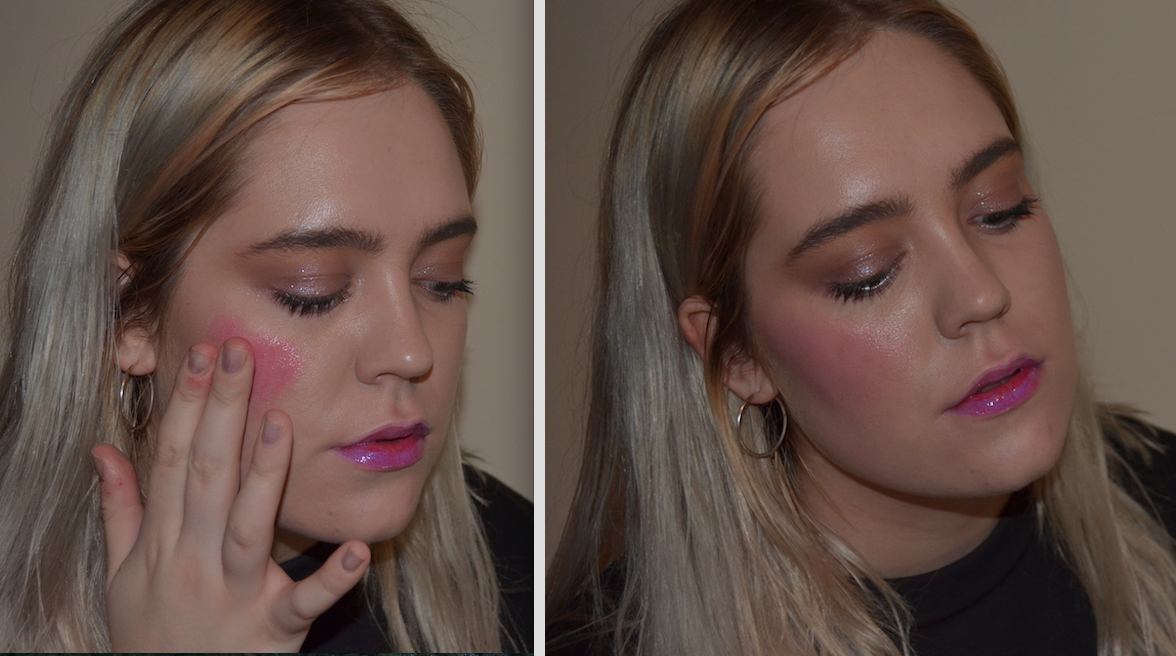 Then, dab on your cheeks. I favor a two-finger-pat technique, because the oiliness of the balm can disturb your makeup underneath if you rub it. You'll end up with a translucent, glowy glaze of cheek color which looks both natural and healthy (aka not at all powdery-dry). As you can see, the Mauve side is more of a "statement cheek," perfect for a doll aesthetic, while the Peach gives more of a natural, slightly sun-kissed glow.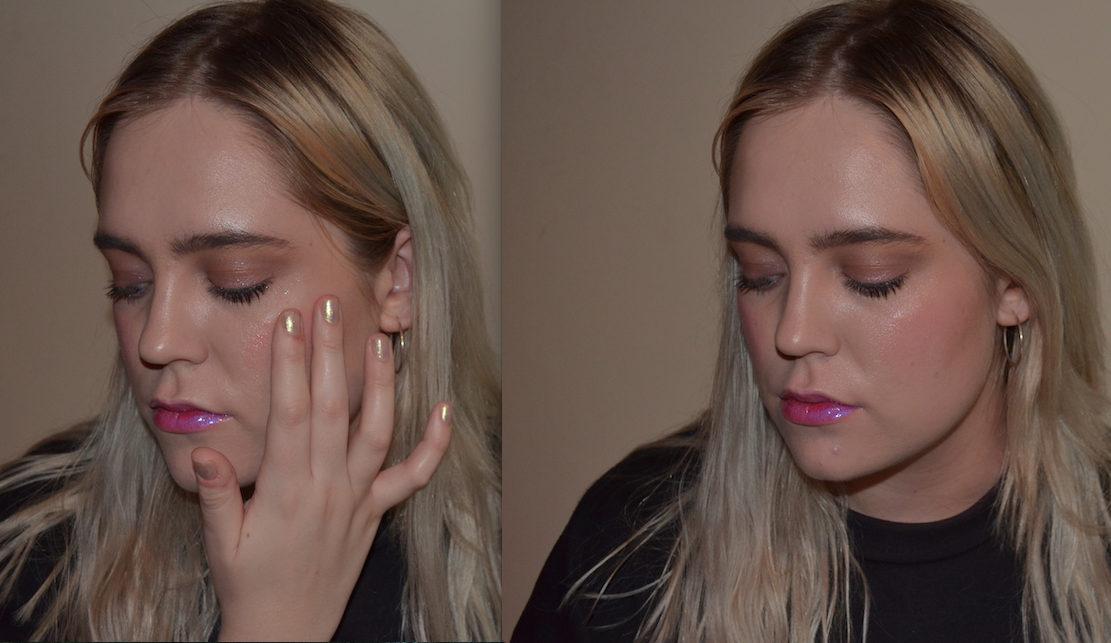 There are twenty-six shades of this $2 lipstick, thus at least one great color for every skintone. Plus, you can also use them as lipsticks, too (revolutionary, I know). There you go — chubby, glow, cherubic cheeks are just a swipe, a mix and a dab away. And look out for the 2019 trend for different colored cheeks. You read it here first.